ACCELERATING DEVELOPMENTS INTERNATIONAL (ADI) ANNOUNCES IT HAS BEGAN THE CONSTRUCTION PHASE OF THE DVRS/DVTS TECHNOLOGY.
ACCELERATING DEVELOPMENTS INTERNATIONAL (ADI) ANNOUNCES IT HAS BEGAN THE CONSTRUCTION PHASE OF THE DVRS/DVTS TECHNOLOGY.
Sherri Wigger
Accelerating Developments International
August 8, 2007
DVRS/DVTS ( DYNAMIC VEHICLE ROAD & TRACK SIMULATION) IS THE FIRST AND ONLY FULLY DYNAMIC TEST SYSTEM FOR TESTING AUTOMOBILE SUSPENSION, DRIVELINE, AND CHASSIS CHARACTERISTICS SIMULTANIOUSLY.
Concord, North Carolina. – August 8, 2007 – Accelerating Developments International announced today that construction build of the DVRS/DVTS test system has begun. After four years in design development, the DVRS/DVTS technology has all of the innovative features in place and will be the only automotive test system of its kind globally.
About DVRS/DVTS Technology
The DVRS/DVTS technology offers extensive testing innovations including;
Fully dynamic road and track motion and forces.
0-250 MPH driveline running conditions.
Programmable accelerating, decelerating, braking, steering, and shifting.
Up to 1300 at wheel HP standard capability.
Down force/aerodynamic effect simulation.
Lateral and longitudinal force loading.
40 degree banking and attitude simulation.
Intelligent, expandable, and flexible system controls.
300 channel ultra high-speed data acquisition.
Road load data and track data drive file interfacing.
Climate condition control.

DVRS/DVTS is the "only" dynamic vehicle test system that incorporates "complete" real-time testing under power, suspension motions, banking angles, and simulated down force scenarios. Accelerating Developments International has also incorporated a proprietary variable influence table that allows the user flexibility to add additional testing condition influences.

Engineering Director for Accelerating Developments International Jay Drake also announced today that Mitsubishi Electric Automation Inc. will be a primary development partner in the DVRS/DVTS technology and will be working side by side with Accelerating Developments International to bring this innovation to the North American automotive industry as well as to global customers. Mitsubishi Electric Automation Inc. is a world leader in innovative motion control products and will be working on additional test system development with Accelerating Development International.

The first DVRS/DVTS is planned for completion in early 2008. Accelerating Developments International will be offering the DVRS/DVTS systems to the automotive Motorsports and OEM industries. There are also plans to have a DVRS/DVTS system available for time-based leasing at the Accelerating Developments International test facility in Concord , North Carolina . The industry significance of the DVRS/DVTS is that testing with 7-Poster Shakers, Rolling Road Wind Tunnels, and on a Road/Track will be of little value. For racing and OEM entities the advantages are many in time and expense reduction, as well as having a single source solution for all vehicle diagnostic needs.

About Us
Accelerating Developments International has a broad reputation for being a comprehensive solution provider that is driven on innovation, configuration flexibility, and rapid deployment of field support engineers. Accelerating Developments International, a privately held company headquartered in Concord , NC , is a leading provider of technology, product innovation, engineering solutions and strategic consulting to the automotive, OEM and Motorsports industries. Accelerating Developments International offers integrated engineering services spanning design, analysis, prototyping, testing, product development and short-run production. The Accelerating Developments International team has over 25 years experience in developing and designing motion control systems and are recognized for their ability to find solutions. Accelerating Developments International offers "in-house" testing for static, semi-dynamic and fully dynamic simulation and measurement.

Shown below is an illustration of the DVRS/DVTS configured in a NASCAR application.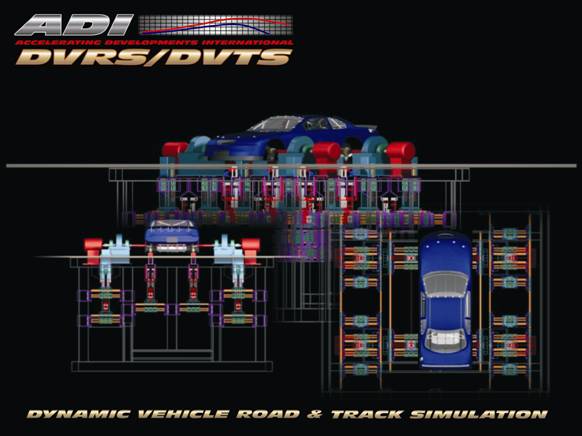 For additional information please contact us at;
Sherri Wigger-Marketing Director
Accelerating Developments International
Office 704-721-0385
swigger@kdrig.com
Jay T Drake-Engineering Director/General Manager
Accelerating Developments International
Office 704-721-0385
Mobile 704-780-0510
jdrake@kdrig.com
Accelerating Developments International
4512 Raceway Drive
Concord, NC 28027
Phone 704-721-0385
Fax 704-721-0386
www.acceleratingdevelopments.com
Connect with The Crittenden Automotive Library