ISCARS DASH Touring Returns to Dillon Motor Speedway
ISCARS DASH Touring Returns to Dillon Motor Speedway
Devon Holder/ISCARS PR
September 22, 2008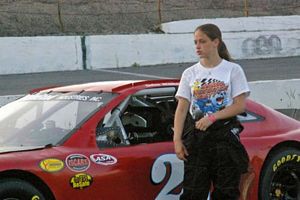 Rookie Chelsea Schillig
Twin 75 Lap Races on Tap for Dillon
DAYTONA BEACH, FL - On Saturday September 27th, ISCARS DASH Touring, Sanctioned by American Speed Association (ASA) heads to Dillon Motor Speedway located in the Pee Dee region of South Carolina for the Charles Ray III Diabetes Foundation Twin 75's. This race will be the second time the DASH Series has been at Dillon during the 2008 season. 2007 ISCARS DASH Champion Danny Bagwell won the race at Dillon in July. Joey Miller of Wilmington, NC won the pole and finished second in that race.
One driver who will be making his first career DASH start at Dillon will be 1986 Daytona 500 Champion, Geoff Bodine. Bodine will be driving a car fielded by Gary Moore. "I have never been in a DASH car," explains Bodine, "This gives me an opportunity to get close to the fans, and I really want to win a DASH race." According to ISCARS President Randy Claypoole, Bodine will not be the only driver new to the DASH Series at Dillon, "In addition to Geoff, we have some other drivers who have registered with ISCARS and plan to make their first start with us at Dillon."
With new drivers on the track, rookie points will be at a premium. Chelsea Schillig comes into the race at Dillon as the leader in rookie points. Schillig picked up her first career DASH pole in the last race at New Senoia Speedway in August. Being a rookie, Schillig has had to adapt to each track the DASH Series has raced on this year. That makes the return trip to Dillon a sweet one for the seventeen year old who finished third here in July, "I feel great about returning to Dillon," says the Florida native, "and I feel honored to have the chance to race against a Daytona 500 Champion, such as Geoff Bodine."
Brad Queen, who currently sits third in points, is locked in a tight battle for Rookie of the Year with the aforementioned Schillig. Queen knows that every rookie point scored is crucial to earning Rookie of the Year honors. However, he is also excited to be racing against Bodine, "Geoff is the biggest name I have ever raced against," says the driver of the Lab Rescue of North Carolina Mercury, "but when it comes down to it, he puts his suit on the same way I do mine."
Prior to the race there will be an on track autograph session for the ISCARS DASH Series. This will allow fans to get up close and personal with all the DASH drivers including Bagwell, Bodine, Queen, and Schillig. In addition to the ISCARS DASH Charles Ray III Diabetes Foundation Twin 75's, the street stock and mini stock classes will be in action. There will also be a stunt show by Hollywood stuntman James Smith. Smith is known most recently for his stunt work in the 2007 movie Transformers where he drove a sports car on two wheels.
Connect with The Crittenden Automotive Library