Counting Down
Counting Down
ISCARS PR
April 3, 2009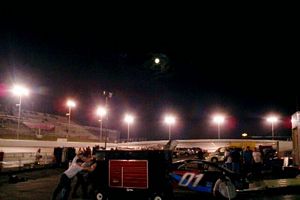 Full Moon Shines Over LPR in 2005
Daytona Beach, FL - ISCARS DASH Touring, Sanctioned by ASA continues preparations for the beginning of the 2009 season set to kick off in the mountains at Lonesome Pine Raceway in Coeburn, VA on Saturday, May 9th.
It has been seven long months since the DASH cars were on the track. Teams are eagerly anticipating the first event.
"We're looking forward to our return to LPR," says Randy Claypoole, ISCARS President/CEO. "We were last at the mountain track in 2005, a race won by local favorite Wade Day on his way to the inaugural ISCARS DASH Touring Championship."
The off season has been abuzz with car purchases and new teams lining up to participate in the only Sport Compact stock car racing series in America. After enduring high gas prices and a serious pinch due to the economy in 2008, the series is hopeful the trend of the off season will translate into an increased car count for 2009.
"Since ISCARS DASH Touring uses a unique car, we don't have a large pool of late models to draw from. There have been a lot of DASH speedway cars sitting in moth balls," says Claypoole. "Whie we certainly hope that one day soon we can return to a superspeedway, short track racing is still our grass roots. Guys spent a lot of money on speedway bodies and still many of them patiently await the opportunity to run on a big track. Our goal is to get one or two speedway races, but for the time being our emphasis is on short tracks and increasing car count."
So far we have 6 events with two races at each event on tap for 2009. "We may add one or two more depending on how the economical impact is affecting our teams."
LPR is a fine facility and a good track for the DASH cars. Fans will get to see two 75 lap races along with a couple of the local divisions.
For more information about LPR log on to their website at: http://www.lpraceway.net
Connect with The Crittenden Automotive Library