BAGWELL AND GERCHAK SPLIT WINS IN 2009 ISCARS SEASON OPENER AT DILLON MOTOR SPEEDWAY
BAGWELL AND GERCHAK SPLIT WINS IN 2009 ISCARS SEASON OPENER AT DILLON MOTOR SPEEDWAY
Jason Mitchell, ISCARS Public Relations
June 8, 2009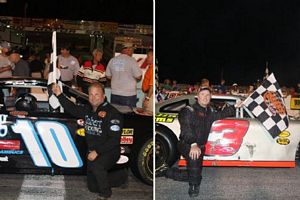 Bagwell and Gerchak in Victory Lane (Photo courtesy of Dale Roberts)
DILLON, SC - The car and stars of the International Sport Compact Auto Racing Series (ISCARS) DASH Touring, Sanctioned by ASA, hit the track for the first time this season on Saturday night at Dillon Motor Speedway. Unlike most races with only one winner, this season's ISCARS format is a bit different with a unique twin 75-lap feature format.
Defending ISCARS champion Danny Bagwell started his hopes at defending the title in a huge way en route to a rather dominating win in the first 75-lap feature at the upstate South Carolina short track.
It was, however, young Eric Gerchak that left both the fans and drivers shaking their heads in amazement as he rallied from third to first on the final lap when leaders Randy Humphrey and Geoff Bodine wrecked with the checkered flag in sight in the second feature.
While tempers were momentarily flaring between Humphrey and Bodine – the winner of the 1986 Daytona 500 – it was Gerchak standing in Victory Lane shaking his head at the turn of events that led to his first career ISCARS triumph.
"I can't believe it," Gerchak said. "I was running third and was happy with that until the leaders ended up getting together with each other. I should have been a little bit closer to them but my handling had just gone away at the end. If it hadn't been for being a little too far back I probably would have been in the wall with them.
"I missed the wreck and won the race which is unreal because Geoff Bodine was one of my heroes when I was growing up. It's almost too good to be true."
Bodine took responsibility for the contact that started as he attempted to move underneath Humphrey for the lead under a green-white-checkered finish.
"It was my fault and I sure didn't mean to get into Randy on purpose," Bodine said. "It was just racing. There at the end when I moved under Randy … my car just ran out of brakes and I made a mistake." Though obviously not pleased of the turn of events with Bodine that cost him a possible win, both drivers left a post-race meeting in the ISCARS hauler with race officials with a better understanding of what had transpired.
"I had a good car with just a little bit to go but then Geoff decided to have brake failure. I had my rear wheels lifted off the ground and he was still in the gas. It's a tough break for us because we had a good car and this team deserved to win." Humphrey explained. "Geoff apologized to me and I accept it,"
In the first 75-lap feature, Bagwell pretty much picked up where he left off last as he would lead wire-to-wire to score the victory. The first caution flag of the night was displayed on Lap 22 when Jason Shultz lost power and slowed, while the second yellow flag was thrown when Robert Tighe went for a harmless spin coming off the fourth turn on Lap 28. The third and final caution flag of the first segment was for a tangle between Caleb Roark and Jessica Berrier that eliminated both cars from contention. The final restart in the first segment was a heated one as Bagwell took the green flag with six laps remaining with Humphrey looking for a way around.
"It might have looked like I had the field covered but I really didn't," Bagwell said. "The car was really good even though the handling went away a little bit towards the end and I thought Randy was going to have something for me on that last restart."
The next stop on the ISCARS schedule will be a twin 75-lap feature on June 27th at Lonesome Pine Raceway in Coeburn, Va. Keep up with all the latest news at iscarsonline.com
ISCARS DASH Touring is sanctioned by the American Speed Association . To learn more of the Daytona Beach, Florida-based Racing Speed Associates or the American Speed Association® including the ASA Member Track program, call (386) 258-2221 or send an e-mail to info@asa-racing.com. For news and information from racetracks and regional tours involved in the American Speed Association®, visit www.asaracing.com .
ASA™, ASA Racing™ and American Speed Association® are trademarks of Racing Speed Associates, LLC. Racing Speed Associates, LLC is not related to or affiliated with ASA Late Model Series, LLC
Connect with The Crittenden Automotive Library