Humphrey and Another Rookie Driver Grab ISCARS DASH Touring Wins at LPR
Humphrey and Another Rookie Driver Grab ISCARS DASH Touring Wins at LPR
Devon Holder, ISCARS Public Relations
June 29, 2009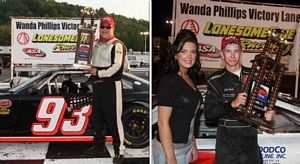 Race Winners Randy Humphrey and Caleb Roark (Photo courtesy of Dale Roberts)
Coeburn, VA - The International Sport Compact Auto Racing Series (ISCARS) DASH Touring, sanctioned by ASA (American Speed Association) returned to Lonesome Pine Raceway (Coeburn, VA) on Saturday June 27th. The race was originally scheduled for May 9th, but rain forced the twin 75 lap races to be rescheduled. ISCARS veteran driver, Randy Humphrey (Cornelius, NC) collected the victory in the first ISCARS feature, while 16 year old hometown favorite Caleb Roark (Abingdon, VA) claimed his first career ISCARS win in race two.
Qualifying saw young Jason Shultz get his first career pole. "A pole for this team means a lot," stated Shultz after qualifying, "I just want to thank my mom and dad, and Vince Langan Motorsports." Shultz is one of many talented drivers competing for the ISCARS DASH Rookie of the Year award in 2009. Starting Along side Shultz on the outside of the front row was 2002 ISCARS DASH Series Champion, Jake Hobgood.
As the race went green, Hobgood wasted no time jumping out to the lead. Hobgood exited turn two on the first lap with the field in tow. However, the lead was short lived as Hobgood slowed on lap eleven and headed into the pits. The diagnosis on the car was internal engine failure. "It looked like the car was going to be in good shape," said Hobgood after the race, "But the motor had other plans."
With Hobgood in the garage, Shultz took the lead followed by Randy Humphrey, rookies Caleb Roark and Eric Gerchak, and 1986 Daytona 500 Champion, Geoff Bodine. A caution on lap 42 for debris allowed the field to bunch back up. On the restart, Randy Humphrey was able to battle past Shultz to take the lead. With only four laps remaining in the race, Caleb Roark spun in the middle of turns one and two.
This brought out the yellow flag and setup a green-white-checkered finish. Brad Queen, who restarted third, pressured Jason Shultz heavily for second. This battle allowed Randy Humphrey to pull away and capture the victory in the first race ahead of Queen, with Shultz in third. "After Dillon we were really disappointed," exclaimed Humphrey in victory lane, "We thought we had the second race there (Dillon) won, but its okay, because we are thankful to be here in victory lane tonight at Lonesome Pine."
Humphrey drew a six for the inversion, which put rookie competitor Matt Griffin on the pole for the second 75 lap race with Geoff Bodine alongside. Humphrey's bid for a sweep ended however, before he completed the first lap of the second race. As he entered turn three, smoke billowed from his machine, forcing a red flag to clean up the oil dumped on the racing surface. Humphrey would be done for the evening with an oil line issue.
After the lengthy red flag, the restart came on lap eight. Bodine restarted as the leader, with Matt Griffin in second. Once the green flag waved, Jason Shultz and Brad Queen both raced past Griffin for second and third respectively. 16 year old Abingdon, Virginia driver Caleb Roark also got by Griffin for fourth on lap twelve.
Jason Shultz took the lead from Geoff Bodine on lap twenty three, but as he accelerated past Bodine, he spun off of turn two bringing out the yellow. The restart on lap twenty seven saw Bodine leading Queen, Roark, Griffin, and Joey Jones. However, as Jones drove to the inside of Griffin for fourth, the two came together and both spun in turn one. Shultz was able to get through the melee unscathed and would restart on lap thirty in the fourth position.
Brad Queen and Caleb Roark battled side by side for the second spot on the restart. Both drivers leaned on each other, rubbing sheet metal for several laps. As they entered turn three on lap thirty four, Queen tried to cross under Roark and made contact, causing the Virginia native to spin in turn three. Roark and Queen both continued with minimal damage. After a debris caution on lap fifty two, the field was bunched up and prepared for a twenty lap shootout.
On lap fifty eight, Jason Shultz made contact with the left quarter of Geoff Bodine exiting turn four while racing for the lead, causing Bodine to spin collecting both cars. Through the other side of all the smoke, young Caleb Roark came through as the leader, with Brad Queen in second and Joey Jones in third.
Caleb Roark was able to hold off Queen, Jones, and the rest of the field to capture his first career ISCARS DASH win at his home track. "That was crazy out there," said an exuberant Roark in victory lane, "This car was amazing. We had something happen in the rear end in the first race, but we fixed it and here we are in victory lane!"
The ISCARS DASH Touring Series will make its next stop on Saturday July 11th at Orange County Speedway in Rougemont, North Carolina. This race will feature the same twin 75 lap format that fans and drivers alike have fallen in love with in America's only Sport Compact Auto Racing Series. Be sure to log on to www.iscarsonline.com for all of the latest news and info.
ISCARS DASH Touring is sanctioned by the American Speed Association. To learn more of the Daytona Beach, Florida-based Racing Speed Associates or the American Speed Association® including the ASA Member Track program, call (386) 258-2221 or send an e-mail to info@asa-racing.com. For news and information from racetracks and regional tours involved in the American Speed Association®, visit www.asaracing.com.
ASA™, ASA Racing™ and American Speed Association® are trademarks of Racing Speed Associates, LLC. Racing Speed Associates, LLC is not related to or affiliated with ASA Late Model Series, LLC.
To see race photos log onto: http://iscars.smugmug.com/
Connect with The Crittenden Automotive Library