Humphrey Takes ISCARS Championship Points Lead With Win at Lonesome Pine Raceway
Humphrey Takes ISCARS Championship Points Lead With Win at Lonesome Pine Raceway
ISCARS Public Relations
July 2, 2009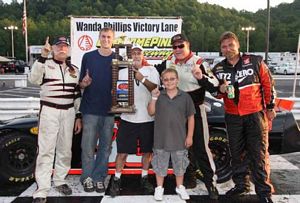 Randy Humphrey and his race team
DAYTONA BEACH, FL - While the racing world's eyes are all on Daytona Beach this weekend for the World Center of Racing's Coke Zero 400 NASCAR Sprint Cup event, International Sport Compact Auto Racing Series (ISCARS) DASH Touring, Sanctioned by American Speed Association (ASA) is taking the Holiday weekend in stride. ISCARS wishes everyone a safe and enjoyable 4th of July and a big Happy Birthday to our great country.
ISCARS DASH Touring has completed four races with four different winners. Danny Bagwell and Randy Humphrey are the two veteran drivers to notch wins.
The other two races have been won by Rookie of the Year Contenders. Eric Gerchak won the second race at Dillon and Caleb Roark captured the win in the second race at Lonesome Pine Raceway.
ISCARS DASH Touring top ten in points: 1. Randy Humphrey 660; 2. Eric Gerchak 647; 3. Geoff Bodine 631; 4. Joey Jones 622; 5. Caleb Roark 615; 6. Jason Shultz 584; 7. Matt Griffin 583; 8. Perry Nantz 518; 9. Danny Bagwell 355; 10. Brad Queen 340.
ISCARS DASH Touring Rookie of the Year Challenge: 1. Eric Gerchak 34; 2. Caleb Roark 31; 3. Matt Griffin 28; 4. Jason Shultz 25; 5. Robert Tighe 17; 6. Kevin Calkins 15; 7. Megan Reitenour 13; 8. Tom Beckman 11; 9. Jessica Berrier 10.
ISCARS DASH Touring has seen huge growth in 2009. "We are doing our best to keep costs down and proactively pursuing more economical engine and body packages," states Randy Claypoole, ISCARS President. "We are taking a serious look at adding an optional 4 cylinder power plant and trying to keep engine cost under $10,000. We are in the process of accepting bids on engine design and also fabricated bodies. This series found its niche in 1975 during the last major gas crunch. With all of the changes going on in car manufacturing we feel this is the best time to position ourselves with a similar configuration that is and will be promoted by the manufacturers in the coming months."
"We want to be one of the best choices for up and coming drivers when they are deciding to advance their career by entering a touring division. NASCAR great Geoff Bodine has taken an active role in promoting the series while also participating in the races. "I wouldn't have drawn attention to that fact the Geoff turned 60 a couple of months back. But I noticed a story in the Kingsport (TN) newspaper where he was quoted talking about it. So, I figure it is okay to go there," chuckles Claypoole. "He certainly still has the fire within him and a deep desire to help other drivers enhance their skills. There are so many young drivers out there that are really showing they can get the job done. We'd like to be on the top of the list for their consideration. Having Geoff Bodine along with other cagey veterans of our series like Danny Bagwell, Randy Humphrey, Joey Jones, and Jake Hobgood who win races and have no issue with trading paint with Bodine or each other. I recall Geoff saying after his first two events with ISCARS that it was a lot harder in this series than most might realize. And truly the competition is stellar."
ISCARS is also working on a Geoff Bodine/ISCARS Driver Development Program with the details to be announced in a few weeks. "Having Geoff on board, gives these rookies a chance to race hard against a 19 time NASCAR Sprint Cup winner and a Daytona 500 Champion," says Claypoole.
ISCARS, now five years in the making, is beginning to see the growth in new teams, drivers and car count that is needed to catch the attention of track promoters and corporate sponsors.
"In just a few days we'll launch a new website with 3D graphics and video driver introductions that will give us a fabulous presence on the web," says Claypoole. "We understand the importance of promoting these drivers and getting as much media attention as possible. We film every race, conduct interviews and hope to soon get ISCARS Wide Open back on television. In the meantime we are releasing race clips via the internet on You Tube and Facebook."
The pit area at each ISCARS DASH Touring race is abuzz with excitement. The "DASH Series" has always been known as a having a family atmosphere. And newcomers catch on to it quickly. Teams routinely share car parts and set-up information to help each other progress knowing that it is important to put on a great show for the fans.
This series has also been a stepping stone for female drivers. While under the ownership of NASCAR, Shawna Robinson made her presence known by capturing impressive wins. Others have included Kelly Sutton, Angie Wilson, Arlene Pittman, Karen Shultz, Chelsea Schillig and most recently Jessica Berrier (daughter of Ed Berrier, longtime NASCAR Nationwide Series standout) and Megan Reitenour.
Next on tap for ISCARS DASH Touring is Orange County Speedway in Rougemont (NC) on Saturday, July 11th in an event co-promoted with the ASA Southeast Asphalt Tour and also will include the Rolling Thunder Modifieds.
Also included in the majority of ISCARS events is the exciting Hollywood stunt show with driver James Smith, noted best for his stunt driving Bumble Bee in the movie Transformers.
Log on to iscarsonline.com for all the latest information.
ISCARS DASH Touring is sanctioned by the American Speed Association . To learn more of the Daytona Beach, Florida-based Racing Speed Associates or the American Speed Association® including the ASA Member Track program, call (386) 258-2221 or send an e-mail to info@asa-racing.com. For news and information from racetracks and regional tours involved in the American Speed Association®, visit www.asaracing.com .
ASA™, ASA Racing™ and American Speed Association® are trademarks of Racing Speed Associates, LLC. Racing Speed Associates, LLC is not related to or affiliated with ASA Late Model Series, LLC
Connect with The Crittenden Automotive Library