SYNTHETIC FIBER POLISHING BUFF—STRONG, EFFECTIVE
SYNTHETIC FIBER POLISHING BUFF—STRONG, EFFECTIVE
Florida Automotive Journal
December 1970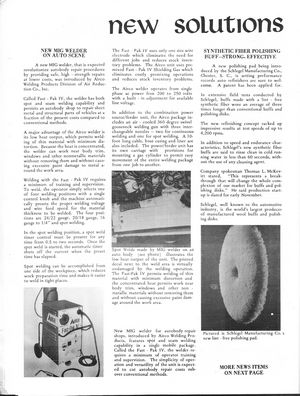 Pictured is Schlegel Manufacturing Co.'s new lint - free polishing pad.
A new polishing pad being introduced by the Schlegel Manufacturing Co., Chester, S. C., is setting performance records auto refinishers are sure to welcome. A patent has been applied for.
In extensive field tests conducted by Schlegel, buffs made with a lint - free synthetic fiber wore an average of three times longer than conventional buffs and polishing disks.
The new refinishing concept racked up impressive results at test speeds of up to 4,200 rpms.
In addition to speed and endurance characteristics, Schlegel's new synthetic fiber buffs are said to rinse clean in cold running water in less than 60 seconds, without the use of any cleaning agent.
Company spokesman Thomas L. McKevitt stated, "This represents a breakthrough that will change the whole complexion of our market for buffs and polishing disks." He said production start-up is slated for early November.
Schlegel, well known to the automotive industry, is the world's largest producer of manufactured wool buffs and polishing disks.
Connect with The Crittenden Automotive Library