Carpenter's Role Changes Again in 2014, Series' Only Team Owner/Driver To Race Ovals, Puts Conway on the Roads
Carpenter's Role Changes Again in 2014, Series' Only Team Owner/Driver To Race Ovals, Puts Conway on the Roads
Tom Blattler
February 17, 2014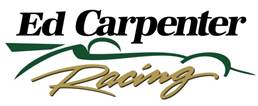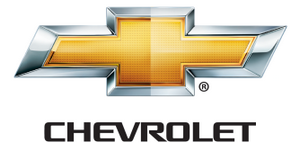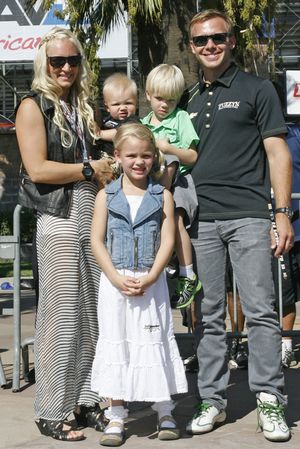 Carpenter Family at Fontana 2013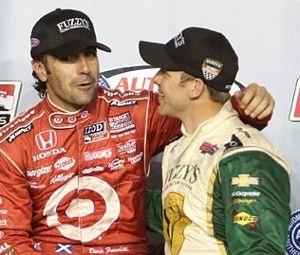 Ed and Dario at Fontana 2012

Ed in Cockpit Fontana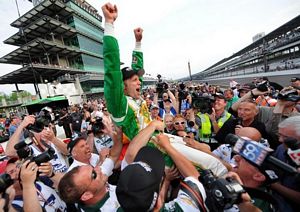 Ed Pole Indy 2013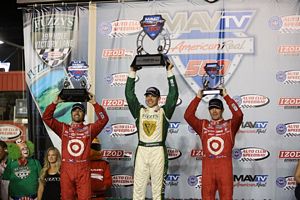 Fontana VC 2012
Ed decides to expand his role at ECR/Fuzzy's Vodka Team
INDIANAPOLIS, Ind. (Feb. 17, 2013)
– Two years ago, Ed Carpenter's position in motorsports changed dramatically when the Butler University marketing graduate started his own team and became the only team owner/driver in the IndyCar Series.
Carpenter, the only racer in the IndyCar Series to come through the tough oval tracks in USAC midgets, sprint cars and Silver Crown, won in his first year in the dual role with a sensational last-lap pass of Dario Franchitti at Fontana, Calif. Carpenter's young team, Ed Carpenter Racing with Fuzzy's Ultra Premium Vodka backing, had established itself against the established super teams such as Ganassi, Penske and Andretti.
Ed returned in 2013 with a stunning Indianapolis 500 pole-winning performance, battling five cars from Andretti and three from Penske in the nine-driver shootout. It was a very popular feat by the Indianapolis resident and his one-car team.
But Carpenter looked at his team's long-term future. Winning races was important to Ed and his sponsors and, if he needed to improve his team's on-track record, maybe he had to make another role adjustment in 2014.
"I talked with my wife, Heather, and our team partners following the 2013 season," said Carpenter, the two-time IndyCar Series winner. "From a business aspect, what was the best for Ed Carpenter Racing and our partners? I still want to race and win the Indy 500 and other races. But we needed some help on the road and street courses. I have gotten better there but the series is too competitive now. So we decided to make a change."
Carpenter hired one of the world's top young road racers in Mike Conway, a two-time IndyCar Series race winner and multi-time sports car winner, to drive the No. 20 ECR/Fuzzy's Vodka Chevrolet on the 12 road and street races in 2014. Conway was impressive with his dominating 2013 win at Detroit and won four other worldwide sports car events last year.
"To make Ed Carpenter Racing a contender at every IndyCar Series, we need a combination of Mike on the roads and streets and me on the ovals," explained Carpenter. "I'm in the team ownership business for the future and I want our team to be as competitive as possible. If that means I take myself out of the cockpit for the streets and the roads that is okay. I know that Mike Conway is a superb road racer. Now I believe we can win at any of the 18 races in 2014."
Carpenter is hoping to expand his operation to a two-car effort in the future and he is working diligently behind the scenes in an attempt to secure more sponsorship to make it happen.
"I have loved racing my entire life and I want to field a team well into the future," said Ed. "We are working hard to expand Ed Carpenter Racing and make it one of the top contenders in the IndyCar Series. It is hard work and I feel I have extra time now to help on those things."
Carpenter knows the adjustments for himself and his team might take a little time, but Conway and ECR have already been working long hours together in the off-season.
"It's been an adjustment over time with the team ownership for me," he said. "The first year in 2012 I had to figure out how to handle my time in and out of the car. Last year, in 2013, I felt that everything ran much smoother for me on the racing side despite having a new child in the house (Cruz was born on 12/12/12).
"Now, in 2014, my role has changed again with my driving concentrating on just the oval tracks and Mike handling the No. 20 car at the road and street circuits. Now, that I am racing a few events in 2014, I noticed that I am working more on the ownership side. We want to be in the racing business for a long time."
Carpenter admits some stressful days make him wish he was a full-time driver again.
"Some days I enjoy the behind the scenes activities and other days I wish we hadn't hired Mike and I could just go driving," said Carpenter after a recent testing session. "It's great to back in race car and testing too. I really love the driving side but we need to work on the team's business aspects also."
Conway has fit in well with the ECR group thus far and the young team is expecting big things in 2014 with Ed on the ovals and Mike on the road and street circuits.
"It's been a lot of fun getting to know Mike," said Carpenter. "He is a great guy and obviously a great, young driver. We have tested a few days with Mike on the road circuits and it is getting better every time we go out on the track with him. Anytime you get a new group together, you have to learn each other and what the driver likes and dislikes. We need to learn how we communicate and how he communicates. Mike and I are different in our feedback to the engineers."
Carpenter also admits he is getting a new perspective of his team as he dons the headset and stands on pit wall now.
"It's been good for me to see the team outside the cockpit and how things work with Mike," he said. "And I'm sure Mike has a different perspective on what we are doing with the car and the team. So it is a total learning process for us right now. We have been able to test with Mike a good bit right now and we hope that pays off when we show up at St. Petersburg in the season opener."
Carpenter feels the confidence level with his contingent can produce winning performances too.
"I feel that we have a team capable of winning on both the roads and the ovals in 2014," Ed said. "There is no reason to believe we can't win on multiple tracks if we execute properly. It always comes down to that. There are so many strong teams and as many strong drivers as ever in the series. So it comes down to which operation does the best job as a team."
Conway also believes the ECR team can put him back in victory lane in 2014.
"I feel very good about the move to Ed's ECR team," said the England native. "I was able to test before the Christmas holidays for the first time in my IndyCar Series career and we have made good progress so far. It is a learning situation for me and the team. But Ed has been hands-on at the tests and working with the engineering staff to give me everything I need. We have some more tests before the St. Pete opener and I feel good about the potential here."
The IndyCar Series open test session will take place at the Barber Motorsports Park on March 17-18 and the season-opening Firestone Grand Prix of St. Petersburg is set for March 28-30.
# # #
ECR 2014 Driver Lineup
Firestone Grand Prix of St. Petersburg
Mike Conway
Toyota Grand Prix of Long Beach
Mike Conway
Honda Indy Grand Prix of Alabama
Mike Conway
Grand Prix of Indianapolis
Mike Conway
Indianapolis 500
Ed Carpenter
Chevrolet Indy Dual in Detroit Race 1
Mike Conway
Chevrolet Indy Dual in Detroit Race 2
Mike Conway
Firestone 600
Ed Carpenter
The Shell and Pennzoil Grand Prix of Houston Race 1
Mike Conway
The Shell and Pennzoil Grand Prix of Houston Race 2
Mike Conway
Pocono INDYCAR 500
Ed Carpenter
Iowa Corn Indy 300
Ed Carpenter
Honda Indy Toronto Race 1
Mike Conway
Honda Indy Toronto Race 2
Mike Conway
Honda Indy 200 at Mid-Ohio
Mike Conway
ABC Supply Wisconsin 250
Ed Carpenter
GoPro Grand Prix of Sonoma
Mike Conway
MAVTV 500
Ed Carpenter
About Ed Carpenter Racing
Owned by IndyCar Series driver Ed Carpenter, Ed Carpenter Racing was formed in 2011 in association famed Indianapolis Motor Speedway, Ed Carpenter Racing has comprised a stellar lineup of associates led by Tim Broyles as team manager, Bret Schmitt as crew chief and Matt Barnes as lead engineer. Their experience in open-wheel racing gives Ed Carpenter Racing strong leadership along with a solid contingent of crew members. Carpenter and the ECR/Fuzzy's team won the 2012 season finale at Fontana, Calif., the MAVTV500 as well as the pole position at the 2013 Indianapolis 500. The No. 20 Fuzzy's Ultra Premium Vodka entry is powered by the twin-turbo V-6 Chevrolet IndyCar engine in 2013. Road racing specialist Mike Conway will drive the No. 20 at the road/street races in 2014 while Carpenter will handle the car in the six oval events including the Indy 500. Ed Carpenter's racing history, dating back to age eight, includes victories in the IZOD IndyCar Series, Firestone Indy Lights and USAC National Sprint Car and Midget competition. For more information, please visit
www.EdCarpenterRacing.com
.
Connect with The Crittenden Automotive Library