Here and There in Motoring's Past: 1908 - Briarcliff Trophy: Dirty Trick
Here and There in Motoring's Past: 1908 - Briarcliff Trophy: Dirty Trick
Peter Helck
Antique Automobile
March-April 1972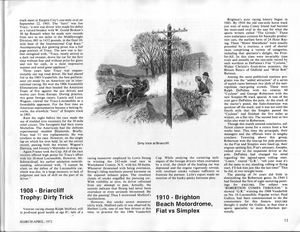 Dirty Trick at Briarcliff.
Veteran racing champ Ralph Mulford, still in profound good health at age 87, tells of a racing maneuver employes by Lewis Strang in winning the 242-mile road race in Westchester County, N.Y. with his 50-Isotta. Whenever threatened with being overtaken, Strang's riding mechanic poured kerosene on the exposed exhaust pipes. The resultant clouds of smoke engulfed the pursuing car. With visibility at zero, its driver refrained from any attempt to pass. Actually, the records indicate that Strang had never been overtaken or even seriously threatened. He did the passing! Thus I mistrusted Mulford's recollections.
However, this smoke screen maneuver (dirty trick, Mulford calls it) was observed by Herbert Lytle, one of our best drivers at this time, in practice for the 1906 Vanderbilt Cup. While studying the cornering techniques of the foreign drivers when overtaken by a rival, the clutch of the leading car was depressed and the engine vigorously revved, with resultant smoke volume sufficient to frustrate the pursuer. Lytle's report made no mention of the hanky-panky kerosene ploy.
Connect with The Crittenden Automotive Library