Car-Cloning Criminal Boss Escapes
Car-Cloning Criminal Boss Escapes
FBI Tampa Division
Special Agent Dave Couvertier
April 29, 2009

Tampa, Florida—PABLO BARRIO, 54, was placed on house arrest on April 16, 2009 and escaped during the morning of April 28, 2009 from his residence and is now a federal fugitive.

On March 24, 2009, BARRIO was arrested by federal authorities. BARRIO was the key subject of OPERATION DUAL IDENTITY, a joint investigation involving a major car-cloning scheme. This joint investigative effort was one of the largest auto theft cases in the United States.

Investigators suspected BARRIO may be headed for Mexico. He had access to a 2004 blue Chevrolet Tahoe, Florida license plate 936-IIL. BARRIO has family members residing in High Springs, Florida; he previously lived in Chicago, Illinois; and has connections throughout the state of Florida; Houston, Texas, and has family members in Cuba.

BARRIO is described as follows: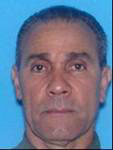 Race: White Male (Hispanic)
Height: 5 feet 8 inches
Weight: 170 pounds (Medium Build)
Hair: Black w/ Gray
Eyes: Brown
Date of Birth: January 15, 1955

Anyone with information on BARRIO's current whereabouts is asked to call the Tampa FBI Field Office at 1-866-838-1153 (toll free) or their local authorities.
Connect with The Crittenden Automotive Library