Mason Mingus; Win-Tron Racing Recover For Top-20 Finish At Pocono Raceway
Mason Mingus; Win-Tron Racing Recover For Top-20 Finish At Pocono Raceway
Chris Knight
Knight Motorsports Management
Win-Tron Racing
August 4, 2014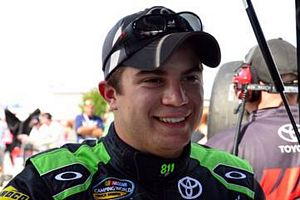 Mason Mingus, driver of the No. 35 Call 811 Before You Dig Toyota Tundra in the NASCAR Camping World Truck Series (NCWTS) for Win-Tron Racing.
LONG POND, Pennsylvania (August 4, 2014)
- - A solid weekend at Pocono (Pa.) Raceway for Sunoco Rookie of the Year candidate Mason Mingus was almost spoiled this past Saturday in the Pocono Mountains 150, but the team recovered to post a 17th place finish.
Mingus, a native of Brentwood, Tennessee had somewhat some big shoes to fill since his explosive performance at Eldora Speedway in the NASCAR Camping World Truck Series. While the finish didn't end as well as they had hoped, the effort was still something to build on for the Win-Tron Racing team.
And building on it was exactly what the freshman NCWTS truck team did in Long Pond. Throughout practice, Mingus worked diligently to get a good handle on their No. 35 Call 811 Before You Dig Toyota Tundra. While Mother Nature attempted to thwart and deprive the teams of precious track time, the track remained dry allowing Mingus to post the 18th quickest lap in both practice sessions.
With a setup to lean on, the team was optimistic heading into knockout qualifying on race day. The team was able to post a fast enough lap where they wouldn't have any issues advancing to round two. However, in the second session, Mingus timed in 17th quickest overall, his second best performance of the season.
From the drop of the green flag, Mingus had patiently tried to maintain a solid spot inside the to-20, but during the early stages of the event, Mingus began to fall a few positions, while informing his team of what changes to make in order to climb back forward.
Approaching the halfway point, Mingus took the opportunity to bring his No. 35 Call 811 Before You Dig Toyota Tundra to pit lane under green, but another truck collected Mingus in the left-rear, spinning him around and pointing in the opposite direction, ruining their pit stop.
Because of the setback, the former ARCA Racing Series presented by Menards driver found himself a lap down and hunting his competitors for the "Lucky Dog."
Thankfully, when Kyle Martel crashed in Turn 1 on Lap 48, the caution waived allowing Mingus to find himself back on the lead lap. Having to fight through the field from the tail-end of the longest line, Mingus positioned himself nicely in attack mode and began stalking his prey on the Lap 53 restart.
Mingus had to battle through two late cautions, ultimately sending the field into overtime, but Mingus soared to take the checkered flag in 17th place, earning his seventh top-20 run of the year.
"It wasn't the finish we wanted, but it was a decent come back after our incident on pit road," offered Mingus. "We made a lot of improvements this weekend that will directly translate to Michigan. It was also our first weekend with Greg (crew chief) on top of the pit box and he did a great job.
"We are heading in the right direction. Pocono is a very tough place to figure out and it took a lot of work by everyone, but by the end of the race, I thought we had a good, solid, stable truck."
Nate Thiesse, co-truck owner of Win-Tron Racing offered his thoughts post-Pocono.
"It could have been a lot worse, but Mason and the team did a great job in the heat of a moment circumstance," said Thiesse. "We're exceptionally pleased with Mason's dedication and determination to bounce back, especially after what happened on pit road. We'll take this finish from Pocono and look ahead to Michigan with open arms."
Exiting Pocono, Mingus sits 12th in the championship standings, 58 markers from 10th place held by Jeb Burton. Mingus unofficially sits second in the Sunoco rookie of the year standings, behind current leader Ben Kennedy.
Learn about Call 811 Before You Dig and what it can do for you by connecting to call811.com.
For more on Mason Mingus, please visit MasonMingusRacing.com.
Follow Win-Tron Racing on Twitter @WinTronRacing or log on to Win-TronRacing.com.
Mingus tweets too. Follow him on Twitter @Mason_Mingus.
About Win-Tron Racing:
Located in Mooresville, North Carolina, Win-Tron Racing (Win-TronRacing.com / @WinTronRacing) is the home of one the most potent ARCA Racing Series presented by Menards single-car operations. Owned by former racers Kevin Cywinski and Nate Thiesse, the team since has acquired the assets of County Joe Racing, becoming a favorable fixture on the circuit. Since Win-Tron Racing's inception in 2007, the team has hosted a variety of drivers including leading drivers James Buescher, Blake Bjorklund, Justin Marks, Matt Merrell and Brandon McReynolds to their first career ARCA victories. In 2014, the team will begin its eighth year of competition with a full-time presence in the ARCA Racing Series presented by Menards and the NASCAR Camping World Truck Series.
###
Connect with The Crittenden Automotive Library