Mason Mingus; Win-Tron Racing Look To Climb In Pocono Mountains
Mason Mingus; Win-Tron Racing Look To Climb In Pocono Mountains
Chris Knight
Knight Motorsports Management
Win-Tron Racing
July 30, 2014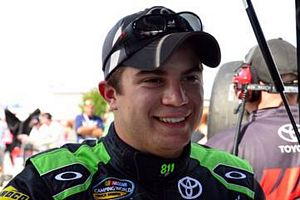 Mason Mingus, driver of the No. 35 Call 811 Before You Dig Toyota Tundra in the NASCAR Camping World Truck Series (NCWTS) for Win-Tron Racing.
LONG POND, Pennsylvania (July 30, 2014)
- - After showing some serious strength at one of the most demanding tracks on the NASCAR Camping World Truck Series tour last week at Eldora Speedway, Mason Mingus and his Win-Tron Racing team look to continue that surge in Saturday afternoon's Pocono Mountains 150 at Pocono (Pa.) Raceway.
And like Eldora Speedway, Pocono demonstrates unique characteristics, often making it one of the trickiest tracks on the circuit. Hence the course's nickname, "The Tricky Triangle."
But for Mingus, the driver of the No. 35 Call 811 Before You Dig Toyota Tundra, he looks to outsmart the triangular 2.5-mile speed plant and earn his second top-10 finish of the season.
"I'm excited for Pocono," said Mingus, a development driver for Win-Tron Racing. "I always love having the opportunity to go back to a track that I have run on before. We have a lot of great things going on right now at Win-Tron (Racing). They are working extremely hard to bring better trucks to the track each week, which was evident last week (Eldora).
"Hopefully, we can carry the momentum we gained on qualifying last week over to Pocono this weekend."
The addition of new crew chief Tripp Bruce soared the freshman NASCAR Camping World Truck Series team into the spotlight for the 1-800 CarCash Mudsummer Classic, but the former ARCA Racing Series presented by Menards driver is determined to prove the effort wasn't a fluke, but instead a preview of what's to come.
"Obviously, Tripp and I haven't been working together for very long, but there seems to be some chemistry," added Mingus, a former champion wrestler. "We weren't sure what to expect, because we made the change within days before Eldora, but I think everyone was pleasantly surprised. Of course, the finish wasn't what we hoped, but were (definitely) encouraged by the performance."
To better aid that performance, the Brentwood, Tennessee native is hoping that his two starts in Long Pond last year in the ARCA Racing Series, which yielded two back-to-back sixth place finishes will result in another top-10 effort.
"I think it will help a lot," sounded Mingus, in reference to his ARCA experience at Pocono. "Any seat time I can get at a track is good and very helpful. It really accelerates my learning curve during practice. I know it's a different beast from an ARCA car to a truck, but I know the crucial points of managing Pocono, so I'm hoping once practice starts on Friday, we'll be in good shape."
Win-Tron Racing truck co-owner Nate Thiesse is also looking forward to Saturday afternoon's 60 lap shootout.
"We can't wait to get rolling into Pocono," he said. "We have a really good vibe and feel that our No. 35 Call 811 Before You Dig Toyota Tundra should be top-notch. Mason has experience at Pocono, so we're already ahead of the game, compared to some of the other tracks we've been too this year. We're aiming for a top-10 finish this weekend and with a little luck, we'll accomplish that."
Entering Pocono, Mingus sits 13th in the championship standings, 65 markers from 10th place held by John Wes Townley. Mingus unofficially sits second in the Sunoco rookie of the year standings, behind current leader Ben Kennedy.
The Pocono Mountains 150 is the 11th of 22 races on the 2014 NASCAR Camping World Truck Series schedule. The event will be televised live on FOX Sports 1, MRN Radio and SiriusXM Satellite Radio Channel 90 on Saturday afternoon, August 2 beginning at 1:00 p.m. The green flag is scheduled to drop at 1:21 p.m. All times Eastern.
Learn about Call 811 Before You Dig and what it can do for you by connecting to call811.com.
For more on Mason Mingus, please visit MasonMingusRacing.com.
Follow Win-Tron Racing on Twitter @WinTronRacing or log on to Win-TronRacing.com.
Mingus tweets too. Follow him on Twitter @Mason_Mingus.
About Win-Tron Racing:
Located in Mooresville, North Carolina, Win-Tron Racing (Win-TronRacing.com / @WinTronRacing) is the home of one the most potent ARCA Racing Series presented by Menards single-car operations. Owned by former racers Kevin Cywinski and Nate Thiesse, the team since has acquired the assets of County Joe Racing, becoming a favorable fixture on the circuit. Since Win-Tron Racing's inception in 2007, the team has hosted a variety of drivers including leading drivers James Buescher, Blake Bjorklund, Justin Marks, Matt Merrell and Brandon McReynolds to their first career ARCA victories. In 2014, the team will begin its eighth year of competition with a full-time presence in the ARCA Racing Series presented by Menards and the NASCAR Camping World Truck Series.
###
Connect with The Crittenden Automotive Library