Mason Mingus; Win-Tron Racing Ready To Do Work In Irish Hills
Mason Mingus; Win-Tron Racing Ready To Do Work In Irish Hills
Chris Knight
Knight Motorsports Management
Win-Tron Racing
August 14, 2014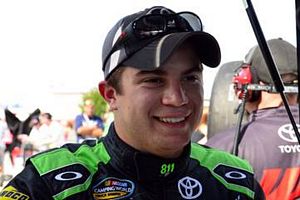 Mason Mingus, driver of the No. 35 Call 811 Before You Dig Toyota Tundra in the NASCAR Camping World Truck Series (NCWTS) for Win-Tron Racing.
BROOKLYN, Michigan (August 14, 2014)
- - Sitting one race past the halfway point on the NASCAR Camping World Truck Series (NCWTS) schedule, Sunoco Rookie of the Year candidate Mason Mingus and his Win-Tron Racing team head to the Irish Hills of Brooklyn, Michigan ready to do work in Saturday afternoon's Careers for Veterans 200 at Michigan International Speedway.
Mingus's freshman tour aboard the No. 35 Call 811 Before You Dig Toyota has had its shares of ups and downs, but as the pedal is about to be hammered down for the second half of the season, the Mooresville, North Carolina-based team knows that the second-half is their opportunity to shine.
With over 1,500 laps completed thus far in 2014, Mingus is vowing to prove that his rookie stripe is slowly wearing off and the seat time he has embraced will (hopefully) pay off with his second top-10 finish of the season this weekend.
"I'm looking forward to Michigan this weekend, the Motor City," said Mingus. "I think we learned a lot with Greg (crew chief) on top of the box at Pocono that we will carry over to the race this weekend. We've shown a lot of speed lately, but we haven't been to capitalize on it to our fullest potential. We hope to change that Saturday."
While not familiar to the 2.0-mile oval of Michigan International Speedway (MIS) in a truck, the Brentwood, Tennessee native does have experience in the ARCA Racing Series presented by Menards last year. In that race, he qualified a competitive sixth and hung on to the lead pack during the 100-lap race to finish sixth, collecting his eighth of 18 top-10 runs last season, helping secure his runner-up championship effort in 2013.
In hindsight, the 19-year old's experience there should pay dividends in Saturday's race, but on the other hand, the Win-Tron Racing development driver is keeping an open mind too.
"I'm excited that I have been to Michigan before," he said. "It was in an ARCA car, but any extra track time I can have is great. I think as a rookie in trucks, I've been able to show that the experience at some of the places I raced last year has put me in a comfort zone. I still have a lot to learn, but I think we'll surprise everyone a little more in this second half."
Drafting will be a key ingredient in this weekend's race, the one challenge that could help propel the former champion wrestler to a career-best finish in his 15th career start.
"Like we said at Pocono, I expect drafting to be very important at Michigan, especially in qualifying," sounded Mingus. "If it does come into play like it did in Pocono, it will be a night and day difference when we draft in qualifying. I think we have a great opportunity to have a solid finish this weekend that will give us some momentum heading into the quick turnaround for Bristol."
Nate Thiesse, co-truck owner of Win-Tron Racing offered his thoughts on the upcoming Careers for Veterans 200.
"Michigan is a fast, wide track which produces some great racing," he said. "We think it's a track that Mason will adapt to quickly in a truck. He showed tremendous speed in the ARCA car there last year and we capitalized on that with a good finish. We hope for a similar effort on Saturday."
Entering Michigan, Mingus sits 12th in the championship standings, 58 markers from 10th place held by Jeb Burton. Mingus unofficially sits second in the Sunoco rookie of the year standings, behind current leader Ben Kennedy.
The Careers for Veterans 200 is the 12th of 22 races on the 2014 NASCAR Camping World Truck Series schedule. The event will be televised live on FOX Sports 1, MRN Radio and SiriusXM Satellite Radio Channel 90 on Saturday afternoon, August 16 beginning at 12:00 p.m. The green flag is scheduled to drop after 12:30 p.m. All times Eastern.
Learn about Call 811 Before You Dig and what it can do for you by connecting to call811.com.
For more on Mason Mingus, please visit MasonMingusRacing.com.
Follow Win-Tron Racing on Twitter @WinTronRacing or log on to Win-TronRacing.com.
Mingus tweets too. Follow him on Twitter @Mason_Mingus.
About Win-Tron Racing:
Located in Mooresville, North Carolina, Win-Tron Racing (Win-TronRacing.com / @WinTronRacing) is the home of one the most potent ARCA Racing Series presented by Menards single-car operations. Owned by former racers Kevin Cywinski and Nate Thiesse, the team since has acquired the assets of County Joe Racing, becoming a favorable fixture on the circuit. Since Win-Tron Racing's inception in 2007, the team has hosted a variety of drivers including leading drivers James Buescher, Blake Bjorklund, Justin Marks, Matt Merrell and Brandon McReynolds to their first career ARCA victories. In 2014, the team will begin its eighth year of competition with a full-time presence in the ARCA Racing Series presented by Menards and the NASCAR Camping World Truck Series.
Connect with The Crittenden Automotive Library