ECR Seeks 'Sweet Spot' With New DW12 Chassis
ECR Seeks 'Sweet Spot' With New DW12 Chassis
Tom Blattler
Ed Carpenter Racing
May 16, 2012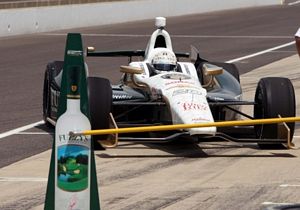 Ed Enters Indy Pits
May 16th 2012 - INDIANAPOLIS – Stronger winds at the Indianapolis Motor Speedway Wednesday made for an interesting exercise for the team engineers in the fifth round of practice runs for the 96th running of the Indianapolis 500-Mile Race.
Ed Carpenter Racing continued its search for the "sweet spot" in the learning process of the new Dallara DW12 chassis, as owner/driver Ed Carpenter completed 46 laps Wednesday in sunny but breezy conditions at the 2.5-mile famed oval. Carpenter posted his best speed of the week at 218.921 miles per hour to move into the top-ten in the early afternoon time sheets.
The team then worked through a variety of settings to adapt to the windy conditions which saw a strong head wind through turns two and three Wednesday. Carpenter recorded numerous 217 m.p.h. clockings in traffic later in the six-hour practice session, as he piloted the No. 20 Fuzzy's Ultra Premium Vodka Chevrolet through a mix of open-wheel machines in search of a good race balance.
The "Happy Hour" session was halted by the first incident of the week when rookie Josef Newgarden spun coming out of turn four and clipped the inside wall on the front straightaway. Newgarden jumped out of his car okay, but his team has a little work to do to the Sarah Fisher machine after the incident. The Nashville driver set the fastest time of the day at 222.785 earlier in the afternoon.
Practice continues Thursday from noon to 6 p.m. before the teams may raise the engine turbocharger boost of their engines for Friday's practice and Saturday's qualifications.
"We tried a lot of things today with the wind," said Carpenter. "We are still missing something with the new car. Obviously, we are not where we want to be just yet. We have been making progress each day. It is getting to the point where we have some time to get a good setup, but we are getting closer to the qualifying weekend. So time is precious. We are not discouraged with the progress we are making, but I'm a little disappointed we haven't made the big jump up the time sheets yet. We have had some decent days in practice, but just not that one day that jumps us up to a proper speed. We seem pretty good in three of the four corners, and we need to work on the one turn that hurts us. We will keep working on it and find that 'sweet spot' with this new car."
Connect with The Crittenden Automotive Library