Carpenter Impressive In Drive From 22nd to 8th Saturday at Milwaukee
Carpenter Impressive In Drive From 22nd to 8th Saturday at Milwaukee
Tom Blattler
Ed Carpenter Racing
June 16, 2012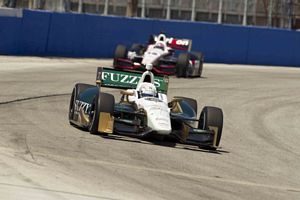 Carpenter Impressive In Drive From 22nd to 8th Saturday in Milwaukee
June 16th 2012 - WEST ALLIS, Wis. – Ed Carpenter recorded his best finish of the 2012 IZOD IndyCar Series campaign Saturday with an impressive eighth place in the 225-lap Milwaukee IndyFest event at the legendary Milwaukee Mile.
Starting 22nd in the No. 20 Fuzzy's Ultra Premium Vodka Chevrolet, Carpenter came from one lap behind on lap 79 and moved into the top-ten by lap 125 after solid pit stops by his Fuzzy's/ Ed Carpenter Racing crew and great restarts.
The Butler University grad used his sprint car background to gain valuable positions each restart and was running sixth on the 195th lap. Unfortunately, on the final restart, Carpenter was forced wide by a lapped driver in turn one and two drivers were able to move underneath the owner/driver in a wild battle.
Carpenter's solid performance gives the ECR contingent positive momentum moving into next Saturday night's (June 23) race at the lightning-fast Iowa Speedway. Carpenter comes off an excellent testing session there last Tuesday and believes his squad will be a contender for the win.
The Iowa Corn 250 will be televised live at 10 p.m. EDT Saturday on the NBC Sports Network. Ryan Hunter-Reay won the Milwaukee event and led a six-position sweep for Chevrolet, the fifth win of the season for the auto manufacturer.
"Hopefully in the future, we'll qualify further up front and we won't have to pass so many cars," said Carpenter. "The team again gave me a good race car and I was able to be aggressive and drive up through the field. They were awesome on pit stops too. It was just a great job by the whole team after being down to one chassis since Indy. It felt good to drive towards the front after being one lap down. I'm happy we got eighth today because it's a season best, but I thought we could have had a top five. We got up to sixth before the last restart. But Marco checked up in turn one and I had to hit the brakes. It's nothing against him because I have been in his spot before. It's a tough position for a lapped driver. I'm very happy that a Chevy is back in the winner's circle and I'm happy for Ryan too. I feel we have some momentum now after today's race and a strong test at Iowa. I think we can be very competitive next week at Iowa Speedway."
Connect with The Crittenden Automotive Library