Carpenter Finishes 7th in Iowa Heat Race Friday
Carpenter Finishes 7th in Iowa Heat Race Friday
Tom Blattler
Ed Carpenter Racing
June 22, 2012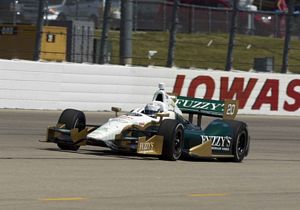 Carpenter Finishes 7th in Iowa Heat Race Friday
June 22nd 2012 - NEWTON, Iowa – Ed Carpenter drove his No. 20 Fuzzy's Ultra Premium Vodka Chevrolet to seventh Friday night in the 30-lap qualifying heat race for Saturday's Iowa Corn 250 at the high-banked Iowa Speedway.
Carpenter will start 22nd in the 25-driver lineup when the green flag drops at 9 p.m. CDT in the live NBC Sports Network telecast.
The only owner/driver in the IZOD IndyCar Series had tested his car last week at Iowa Speedway and was expecting a good performance following those runs at the 7/8-mile racing facility. However, the aero package was changed last weekend at Milwaukee and it threw a curveball to the Ed Carpenter Racing team.
Warm conditions Friday made the track surface a little tricky for ECR with the new aerodynamic package.
Carpenter started seventh and made an attempt to pass early in the 30-lap event, but overtaking proved difficult in the first of three heat races. Later in the evening, the track surface cooled for the other heats and some passing was possible.
Graham Rahal, Tony Kanaan and Dario Franchitti captured heats 1-2-3 Friday evening with Franchitti capturing the pole position by virtue of his winning the fastest heat race.
It marked the first time for qualifying heats in an IndyCar Series weekend in the modern era dating back to 1980. The 250-lap feature's starting field will be lined up finishing results from the three qualifying heats.
"That race is pretty much what I expected," said Carpenter after his heat race. "Single file. Unless someone's car goes off in a stint, it will be very difficult to pass people. I thought the aero package we tested here was pretty good. But they (INDYCAR officials) changed the package last week for this weekend. I tried to make a move on (Mike) Conway in the low line early, and the car just got too loose. Later in the race we were as fast as the leaders but there was no way to close the gap. I hope it is more exciting on Saturday night than that heat race. We used to put on some good racing at Iowa before and I hope this new package doesn't hurt the racing here. We'll wait and see what happens in the 250-lap race."
Connect with The Crittenden Automotive Library