Carpenter Fights Back To Place 8th at Iowa
Carpenter Fights Back To Place 8th at Iowa
Tom Blattler
Ed Carpenter Racing
June 24, 2012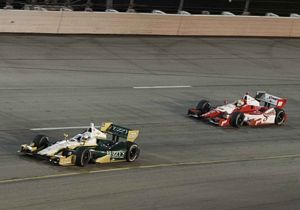 Carpenter Fight Back To 8th at Iowa
June 24th 2012 - NEWTON, Iowa – Ed Carpenter has been passing inside and out at the oval tracks this season with his No. 20 Fuzzy's Ultra Premium Vodka Chevrolet.
And Saturday night in the rain-delayed Iowa Corn 250, the pattern continued for Carpenter and the young Ed Carpenter Racing team, as they scored an eighth place finish for the second straight week.
Starting 21st at the fast Iowa Speedway, Carpenter fought his way back twice after he fell behind a lap in the early portion of the 250-lap feature. Carpenter worked his way to 15th as the first yellow flag flew on lap 68 and he made his first pit stop. However, he lost a lap in the pits and had to fight with the leaders in the middle portion of the race.
Finally, on lap 195, Carpenter made a brilliant outside restart on leader Scott Dixon to get back on the lead lap after a turn four spin by early leader James Hinchcliffe.
The owner/driver drove into the top-ten with 50 laps remaining Saturday and looked to have a chance for a top-five finish. He passed Justin Wilson and Graham Rahal for ninth and eighth and was battling Rubens Barrichello and Helio Castroneves for sixth when a late-race caution forced the race to finish under a yellow flag.
Carpenter's eighth place matched his best result in the 2012 IZOD IndyCar Series after eighth last week at the Milwaukee Mile short track.
"It's another top ten and another race starting in the back and fighting our way forward," said Carpenter. "We lost a lap twice and got it back pretty late to make a charge. We made a bad call on the first caution flag and I lost the lap on a pit stop. We pitted too quickly before we packed up. But similar to Milwaukee (when he passed E.J. Viso on a restart), I was able to pass (Scott) Dixon on a restart. I was able to pick up a few more spots before the end.
"I think I've always gotten good restarts but never gotten praised for it like TK (Tony Kanaan) or (Tomas) Scheckter. I feel that is a strength of mine. When you get opportunities in a race you have to make the most of them. I thought I had better than Dixon and that was going to be my last chance to get a lap back. And we got a good break on the yellow. Happy to get another top-ten but I had to work much too hard for it. The Fuzzy's car could have been a top-five car today."
The ECR/Fuzzy's Vodka squad now returns to Indianapolis to prepare for battle in the streets of Toronto set for July 6-8 around Exhibition Park. The IZOD IndyCar Series takes a needed break this weekend after seven consecutive weeks of competition including Indy (three weeks), Detroit, Texas, Milwaukee and Iowa.
Connect with The Crittenden Automotive Library