ECR Set To Challenge Toronto Streets
ECR Set To Challenge Toronto Streets
Tom Blattler
Ed Carpenter Racing
July 6, 2012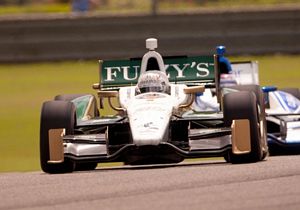 ECR Set For Challenge Toronto Streets
July 6th 2012 - TORONTO, Ont., Canada – Ed Carpenter's dual role as team owner and driver in the 2012 IZOD IndyCar Series has been both satisfying and frustrating at times.
Carpenter's team, Ed Carpenter Racing, has been one of only two IndyCar Series squads (Sam Schmidt is the other) to finish every race so far in the first nine events of the 15-race schedule. The first-year contingent has recorded four consecutive top-12 finishes including eighth place in the last two races at Milwaukee and Iowa.
The team made a miraculous comeback at Indianapolis after a qualifying crash wrecked one of the team's primary machines. Carpenter was able to return to action the following day to make the 500-Mile race starting field and raced to third at lap 177 before a spin took him out of contention.
Carpenter, the team owner, is very pleased with his team's effort in the first half of the IndyCar Series campaign. Carpenter, the driver, believes he and his operation have missed a few opportunities to compete for a podium finish this year.
Working seven straight weeks with five races and two testing sessions, the ECR/Fuzzy's team also had to rebuild the wounded Dallara chassis in the meantime and the car is ready for the exciting street battle this weekend at Exhibition Place in Toronto. Carpenter and his No. 20 Fuzzy's Ultra Premium Vodka Chevrolet are prepared for Sunday's Toronto Indy.
"It has been a very tough stretch for the team especially with the Indy crash," said Carpenter, who captured his first IndyCar Series race last October at Kentucky Speedway. "But I'm proud of the effort everyone has put in with the tight schedule. We have finished every race too. That is a great showing for a first-year team. I felt we should have performed a little better in some of the races from a team owner's standpoint. We have a few chances to make the top-three but we didn't get the breaks."
Carpenter, the only team owner/driver in the series, has passed many cars this year too. The Butler University graduate drove from 24th to 14th at Long Beach; 28th to third in the Indy 500 before a spin; from 19th to second at Texas before a green flag pit stop; from 22nd to eighth at Milwaukee and from 21st to eighth at Iowa.
"We need to improve our qualifying performance this year," said Carpenter, who's only Toronto appearance came in 2009 when he placed 15th. "Our setups for the races have been very good. We have made some good runs through the fields. I feel that our street settings have been better this year. So I hope to have a competitive car for the streets of Toronto.'
Carpenter's double role has been satisfying for the 31-year-old racer from Indianapolis due to some strategic moves in the front office. "In the past, as a driver, I was able to concentrate on my side of the team," explains Carpenter. "Now, as an owner, there are more meetings, more sponsor appearances and more behind the scenes activities.
"But we have very good people in place to take the pressure off of me on the team side. We have Derrick Walker as general manager, Tim Broyles as team manager and Bret Schmitt as crew chief and they are very experienced. So, during the racing season, I can concentrate on the driving side. Having those guys working the management side definitely helps me in the dual role."
Carpenter also believes having an aggressive primary sponsor such as Fuzzy's Ultra Premium Vodka and an engine partner in Chevrolet have made his dual role much easier.
"I can't say enough for our partners in Ed Carpenter Racing with Fuzzy's Ultra Premium Vodka and Chevrolet," he said. "With people like Eric Timmerman (CEO of Fuzzy's) and Fuzzy Zoeller (golfing great and Fuzzy's founder) behind us, the promotion around the team and the IndyCar Series has been fantastic. I think a lot of people can see that already. And being associated with a legendary auto manufacturer like Chevrolet is a tremendous asset for our team and the entire series too. I couldn't ask for better partners as both a team owner and driver."
And Carpenter now wants to reward his partners and his hardworking team with a strong showing this weekend at Toronto and the rest of the season.
Connect with The Crittenden Automotive Library