Ed Gets Tangled In Late Race Crash, Finishes 18th at Toronto
Ed Gets Tangled In Late Race Crash, Finishes 18th at Toronto
Tom Blattler
Ed Carpenter Racing
July 8, 2012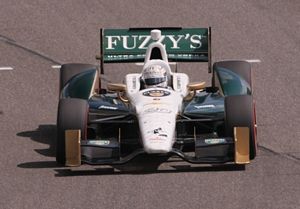 Ed Gets Tangled In Late Race Crash, Finishes 18th at Toronto
July 8th 2012 - TORONTO – Ed Carpenter came close to recording a solid finish Sunday in the Toronto Indy but a wild late race crash relegated the owner/driver of the No. 20 Fuzzy's Ultra Premium Vodka Chevrolet to 18th at the checkered flag in the 85-lap street circuit battle.
Carpenter, who began 21st in his second Toronto event, moved to 15th late in the race when a large contingent of drivers became tangled in turn three on lap 82 in front of the Fuzzy's Vodka racer. Dario Franchitti, Ryan Briscoe, Takuma Sato, Marco Andretti and Simon Pagenaud were involved in various incidents when Carpenter had nowhere to go.
With the track basically blocked, Carpenter had to stop his machine. Unfortunately, he stalled the engine and had to wait for the IndyCar Safety Team to restart his Chevrolet engine. Due to the delay, Ed was forced to lose a lap to the leaders and placed 18th.
Early in the race, Carpenter's mount slid into the runoff area, but he fought his way back to run in 15th place. The Fuzzy's Vodka machine was able to improve throughout the event with each pit stop, and Carpenter ran very competitive lap times as the race continued. In addition, the Ed Carpenter Racing crew was lightning quick with its two pit stops on laps 26 and 51 to help Carpenter gain positions.
It was a disappointing finish with Carpenter having a chance to score valuable points before the late race incident. Ryan Hunter-Reay scored his third consecutive victory Sunday for Chevrolet.
The ECR/Fuzzy's Vodka squad now returns to its Indianapolis headquarters to prepare for the 11th stop in the 15-race IZOD IndyCar Series scheduled for July 22 in Edmonton, Alberta, Canada at the 2.25-mile City Centre Airport temporary road circuit.
"I made a mistake early, going into the runoff in turn eight," said Carpenter. "But I was able to stay on the lead lap and we worked with the car. It felt better towards the end. We were able to soldier on and be in position at the end to pick up some positions when people up front had to pit late. But it was frustrating that we got caught up in the turn three crash at the finish. I thought I could have finished higher.
"That is the biggest disappointment for me. I was the last one to stop in the mess and I was the last one to get restarted. There were guys who caused the crash who got restarted before me. That doesn't make sense. They move me out of the way and restart those guys. That cost us today by losing a lap. I need to talk with IndyCar and Beaux (Barfield, race director) since the guys who blocked the track and caused everything in turn three get to take off before guys who had to stop because the track was blocked. That is very frustrating. Our Fuzzy's Vodka Chevy needed to be better in the race but we'll work on it for Edmonton."
Connect with The Crittenden Automotive Library