Carpenter Improves Speed Friday At Edmonton
Carpenter Improves Speed Friday At Edmonton
Tom Blattler
Ed Carpenter Racing
July 20, 2012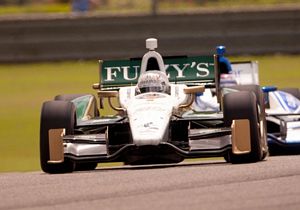 ECR Ready For New Edmonton Adventure
July 20th 2012 - EDMONTON – Friday at the Edmonton Indy was back to school day for team owner/driver Ed Carpenter.
The 31-year-old Indianapolis racer was making an accelerated learning curve Friday at the Edmonton City Centre Airport in his first appearance at the new 2.25-mile, 13-turn road circuit near downtown Edmonton.
Carpenter had last competed at the Alberta airport course in 2009 but the Edmonton track was changed to the back side of the tarmac in 2011.
The Ed Carpenter Racing team did a superb job in preparing the No. 20 Fuzzy's Ultra Premium Vodka Chevrolet for the high-speed circuit as Ed learned the various turns in the morning practice session. Carpenter clocked a one minute, 18.89-second lap in the first one-hour practice for a speed of 101.473 miles per hour. Simon Pagenaud was fastest in the morning at 104.605 m.p.h.
In the afternoon runs, Carpenter had a better handle on the track and improved his time nearly a second with a 1.17.926 time and 102.743 m.p.h. In fact, Ed lost his quickest lap of the day when the red flag came out for another driver's spin. A 1:17.731 clocking would have moved Carpenter up the speed charts. Helio Castroneves was fastest at 104.670.
Cooler weather greeted the IZOD IndyCar Series teams Friday and rain could be a possibility for Saturday's qualifying. Practice is set for 9 a.m. for an hour followed by the Firestone Fast Six time trials scheduled for 1 p.m.
The Edmonton Indy will start Sunday at 2:45 EDT (12:45 local time) with the NBC Sports Network's live telecast set for 2:00 p.m. EDT.
"We made a lot of progress with the car today," said Carpenter. "I hadn't run this track before so it took a little time to learn, but it isn't that difficult. I think I am still making adjustments on the track with where to push the car. We picked up nearly a second in the second session and closed the gap to the leaders by nearly a second and a half. We ran a quicker lap than the charts show but we lost it due to a red flag on the track. I felt the car was much improved from the first practice. I think we are moving in the right direction with the Fuzzy's car. If we can improve the car as we did today (Friday), we could move up the grid. The team did a good job making the proper changes today. I'm optimistic about Saturday's runs now."
Connect with The Crittenden Automotive Library