Rookie Team Continues Its Progress As ECR Is Set For Sonoma
Rookie Team Continues Its Progress As ECR Is Set For Sonoma
Tom Blattler
Ed Carpenter Racing
August 21, 2012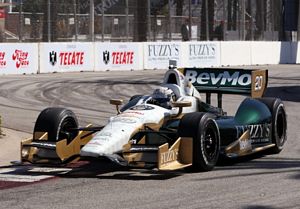 ECR Continues To Make Progress as Team comes to Sonoma
August 21st 2012 - SONOMA, Calif. – Ed Carpenter was not naive about the challenges facing a rookie racing team in the highly-competitive IZOD IndyCar Series. He knew it might be tough for Ed Carpenter Racing.
As the only driver/team owner in the open-wheel racing trail, Carpenter has been balancing two roles in his organization's initial season.
And Carpenter also followed a different route as the other drivers in the series as the IZOD IndyCar Series comes to the tough road racing circuit at Sonoma Raceway this weekend (Aug. 24-26) for the Indy Grand Prix of Sonoma.
The Butler University marketing graduate developed his racing skills in the tight dirt and pavement bullring oval tracks in USAC Midwest competition. Ed had no road racing experience as a young driver with a start in quarter midgets as opposed to karting and smaller formula cars as his rival drivers.
But the personable family man has turned into a businessman and road racer this year with his new No. 20 Fuzzy's Ultra Premium Vodka/BevMo Chevrolet race car. Carpenter thrives on the oval tracks and continues to learn his craft at the road courses.
"I'll admit we are coming from behind this year with the new team and racing every road circuit," said Carpenter, the only driver to finish all 12 races in the 15-event IndyCar Series this year. "I haven't competed regularly at the road circuits since 2008. So we are learning to get back in the groove you would say. In addition, we have a very solid team but they are still learning to work together. It takes time for an operation to gel. You are racing against some of the best in the world like the Penske, Ganassi and Andretti teams. That isn't an excuse, just the fact that catching up to those types of teams will take time. The dual role as team owner and driver has been both satisfying and frustrating at times."
Carpenter's team made a miraculous comeback at Indianapolis in May after a qualifying crash wrecked one of the team's primary machines. Carpenter was able to return to action the following day to make the 500-Mile race starting field and raced from 28th to third at lap 177 before a spin took him out of contention.
Carpenter, the team owner, is very pleased with his team's effort so far this year. But Ed, the driver, believes he and his operation have missed a few opportunities to finish in the top three.
"We had a very tight schedule in the middle of the season," said Carpenter, who captured his first IndyCar Series race last October at Kentucky Speedway. "There were almost no days off for over two months straight. But I'm proud of the effort everyone has put in with the tight schedule. We have finished every race too. That is a great showing for a first-year team. I felt we should have performed a little better in some of the races but we didn't get the breaks."
Now, Carpenter and his ECR squad are prepared for the demanding 2.3-mile, 12-turn permanent road course in the Napa Valley. Recent testing at Sonoma Raceway has given Ed and the team a good head start for Friday afternoon's first practice round. "I'm impressed with new layout at Sonoma," said Carpenter. "We were able to test there last week and the three new corners should be very good for the race. There are a couple of places that are easier to pass now. It was a little tough at first to visually see the proper breaking points in the new turns. But I think everyone got used to those spots by the end of the testing session. You can get a long run going into Turn 11 now and Turn 7 seems better for racing too. I always like going to Sonoma. The area is beautiful and the track is challenging."
Carpenter understands the importance of the Sonoma event, both as a driver and team owner. This weekend is a big for his team and sponsors.
"The crowd at Sonoma is really into the racing," he said. "They are knowledgeable. This event is big for Fuzzy's Ultra Premium Vodka our primary sponsor and our associate sponsor BevMo. The Bay Area is a big market for them and I enjoy the activities we have in conjunction with the race. It will be a busy weekend but that is part of being a driver and a team owner."
Carpenter's double role has been satisfying for the 31-year-old racer due to some strategic moves in the front office.
"In the past, as a driver, I was able to concentrate on my side of the team," explains Carpenter. "Now, as an owner, there are more meetings, more sponsor appearances and more behind the scenes activities. But we have very good people in place to take the pressure off of me on the team side. We have Derrick Walker as general manager, Tim Broyles as team manager and Bret Schmitt as crew chief and they are very experienced. Having those guys working the management side definitely helps me in the dual role."
So, as Carpenter's young team grows in development and he gets back into the road racing mode, the new driver/team owner sees his new business continuing the process to form into a contender in the IZOD IndyCar Series.
Connect with The Crittenden Automotive Library