Carpenter Battles Tough Sonoma Track Friday
Carpenter Battles Tough Sonoma Track Friday
Tom Blattler
Ed Carpenter Racing
August 24, 2012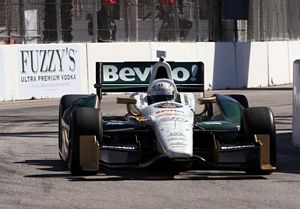 Carpenter Battles Tough Sonoma Track Friday
August 24th 2012 - SONOMA, Calif. – The track configuration at Sonoma Raceway changed for this year's Indy Grand Prix of Sonoma as the IZOD IndyCar Series makes its 13th stop of the 2012 campaign and the new layout was difficult for many of the 27 drivers Friday.
Three corners were adjusted from the famed road circuit north of San Francisco. Several drivers slid off the tough Sonoma road surface under sunny but breezy conditions. The wind made for sandy spots in various track locations and traction was not optimum at times Friday afternoon.
Ed Carpenter brought his new racing team to Sonoma for its first showing at the 2.4-mile, 11-turn permanent road course and the Indianapolis driver/team owner battled his way around the rolling hills in the opening practice session. Carpenter, the only driver to finish all 12 previous races this season, worked off the settings from last Friday's testing runs at Sonoma. However, Ed felt those setups in the No. 20 Fuzzy's Ultra Premium Vodka Chevrolet Dallara were not suited to Friday's racing surface.
Carpenter turned in a best time of one minute, 21.413 seconds for an average speed of 105.46 miles per hour as the team prepares for Saturday's qualifications. Ed worked with engineers Matt Barnes and Brent Harvey as well as consultant Lee Bentham in making changes to the Fuzzy's machine through the 75-minute practice Friday.
The new track layout has been modified to allow for passing opportunities for Sunday's 85-lap main event set to begin at 1:40 p.m. PDT Sunday live on NBC Sports Network. Qualifying rounds in the Firestone Fast Six is set to start at 2:30 p.m. PDT Saturday after a second hour-long practice at 10:50 a.m.
"It just wasn't a great session for us today," said Carpenter. "We tried something from where we ended the test (last Friday) and I think it did more harm than good. But that is something you have to try in the first practice. The wind was blowing a different direction today than from the test day. So that might have made the track a little different for us. We just need to sit down and go over the data to improve on Saturday. We can work with the car and make the proper adjustments for qualifying."
Connect with The Crittenden Automotive Library