Ed's New Blog on the Off-Season
Ed's New Blog on the Off-Season
Ed Carpenter
Ed Carpenter Racing
March 6, 2013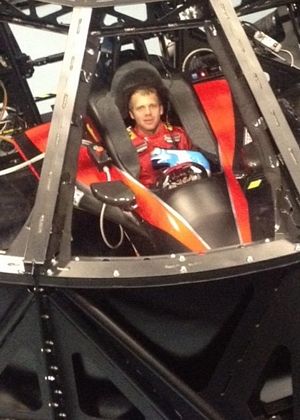 Dallara Simulator
March 6th 2013 - Hi everyone, this is Ed Carpenter, owner/driver of the Fuzzy's Ultra Premium Vodka Chevrolet in the IZOD IndyCar Series. I'll be posting a monthly blog in National Speed Sport News on the behind-the-scenes activities with our team and the 2013 series.
I hope you enjoy catching up on our events each month. It has been nice to be the last winner on the IndyCar Series over the winter with the victory at the MAVTV 500 at the Auto Club Speedway in Fontana, Calif. Now we would like to move that winning up into May this year and take home the Borg Warner Trophy.
Overall, it was a great way to finish the season in 2012. We wish the season could have gone longer since you have the momentum of the Fontana win. It was huge win for us. It was my second career IndyCar win but, more importantly, it was the first win for the Ed Carpenter Racing/Fuzzy's Ultra Premium Vodka team. It has really energized everyone over the winter and we are ready to go for 2013. We want to fight for more of those wins this coming year.
Last year was a short off-season for ECR with the formation of the new team, getting the new car and new Chevy engine. It was a hard trying to get caught up with all of the things involved with the new organization, new crew members and learning about each other. There wasn't really any time to do much but get ready for the racing season. It has been nice to have a full off-season and evaluate our program. We have had time to figure out how to improve the operation and work on a variety of areas that can make the team better. We want to have a good plan for the future and continue to work for selected goals.
We have been able to work hard on our development plan and I'm hoping that will show on track this year. I really couldn't ask for a better sponsor than Fuzzy's Ultra Premium Vodka. They have a great job on promoting over team and the series with their brand. It was incredible to pull into the Fuzzy's 19th Hole Victory Lane at Fontana. It was a great backdrop for the winning car.
Fuzzy's, founded by Indiana golf legend Fuzzy Zoeller, have allowed us to keep everyone in the shop and develop this racing team. We didn't have to cut any corners during the winter and that is a big help. In addition, they continue to help the IndyCar Series as the official vodka as well as now sponsoring the "Fuzzy's Triple Crown" with the races at Indy, Pocono and Fontana. We hope that we can be in contention for the coveted title this year. In my opinion, I have the best sponsor in the paddock.
We kept our entire crew lineup and also brought in another young engineer who can assist our current engineering staff. Continuity is so important in this sport that we feel pleased with the current team members and we hope they can continue to learn more about each other. The big teams like Penske and Ganassi get a lot of their success with the same crews over the years. That is something we are striving for and we have been successful in our short existence.
It was a busy winter for the family too. My wife Heather and I and our children, Makenna and Ryder, welcomed a new addition with the birth of little Cruz on 12/12/12. So we have another boy as part of our Carpenter contingent. He has been great too. He is already sleeping through the night. It made for great Christmas and holiday season. And now he is ready to attend his first race in St. Petersburg in a few weeks.
Fontana was a great way to finish up 2012. And we always have Indy on our radar and we have done some good work for the 500 in the off season. As soon as the checkered flag fell at Fontana, we were already working towards 2013. Once you get the taste of a win, you want to get started and win again. And the whole team has that bug. We really have a good group of people at Ed Carpenter Racing. It has gotten stronger since we started in November of 2011. We have a lot of fun and they all like working together. And I know they are looking forward to the season.
One of the off-season projects for our team was for some of our engineers and I to travel to Italy and work with the Dallara simulator. We would able to test at several track layouts and it is a unique experience. We went over there in October and ran the equipment. We felt it provided us with some good feedback. So we went over again in February to gain some additional information. Testing is so limited in the IZOD IndyCar Series that getting off-track testing is very important for our team. We can test driver and car items over there with this new simulator, so it has proven to be a valuable asset. It is something we are going to see more of in the future. Just like with wind tunnel development and the computer technology, our programs are moving in that direction. You can really match up things from the simulator to the track with this type of advanced technology. In many ways, it is cheaper than actually testing at a track.
The season opener at St. Petersburg is coming up fast. It is a race that I have been a part since 2005. It is a great event. It is a great place to kick off our IZOD IndyCar Series. The city of St. Petersburg has done a great job with IndyCar racing. It has really established itself as our season opener. It is a place I always enjoy visiting. I hope we can get start off to a strong start to the season at St. Pete.
Our team's goals for 2013 are to keep improving. Obviously, it's hard to win in this series, yet we won in the first year. We seemed to be a better all-around team now, and we will continue to grow as a team.
Thanks for your time. See you at the track.
ED
Connect with The Crittenden Automotive Library