Carpenter, Fuzzy's Vodka Chevy Improves Speed at St. Pete
Carpenter, Fuzzy's Vodka Chevy Improves Speed at St. Pete
Tom Blattler
Ed Carpenter Racing
March 23, 2013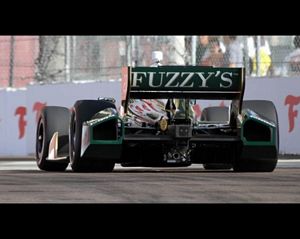 Carpenter, Fuzzy's Vodka Chevy Improves Speed at St. Pete
March 23rd 2013 - ST. PETERSBURG, Fla. – Ed Carpenter improved on his speed Saturday in his No. 20 Fuzzy's Ultra Premium Vodka Chevrolet machine for the first round of 2013 IZOD IndyCar Series qualifications in the streets of St. Petersburg, as his Ed Carpenter Racing team prepared for Sunday's 110-lap feature.
Carpenter and his ECR/Fuzzy team improved its weekend speed in qualifying with a best lap time of one minute, 2.664 seconds for an average speed of 103.410 miles per hour.
The Butler University grad bettered his Friday time by half second and will start 23rd at the 1.8-mile street circuit next to the St. Petersburg harbor and Whited airport.
In addition to his Saturday on-track activities, Carpenter will host a small "watch" party for the 7:45 p.m. EDT NCAA College Basketball game between his alma mater and Marquette. Ed is a close friend with Butler head coach Brad Stevens as well as a season ticket holder at the famed Hinkle Fieldhouse in Indianapolis.
Carpenter was watching Butler's Thursday game on his smart phone while studying track maps and engineering setups with his staff in the team's transporter.
Now, Ed can relax and catch the game action before Sunday's Grand Prix of St. Petersburg.
Carpenter was the first qualifying driver Saturday at St. Pete and posted four laps before switching to the "red" Firestone tires for two final laps. The ECR crew made a quick front wing adjustment in hopes of improving the Fuzzy's Vodka machine's handling.
Will Power won his fourth consecutive pole position Saturday with a speed of 105.870.
Sunday's main event, the season opener for the 19-race IZOD IndyCar Series, is scheduled at 12:30 p.m. EDT and will be televised live on the NBC Sports Network.
"That was the first time we had been on the red Firestone tires so we are still learning how they handle them," Carpenter said. "We have been talking about how we can use the reds in the race too. The grip level is good with red tires but they change later in the stint. We just need to see how we can be prepared for the race. We are getting some good grip on the rear tires, but we had some understeer in the low speed corners. So we need to work in that area for Sunday. Boy, it is competitive out there. There was just over one second in the top 12 in the first qualifying group. That makes it hard to move up when the field is that tight. This is just a highly-competitive series."
Connect with The Crittenden Automotive Library