ECR Packed, Ready For Sao Paulo 300 This Weekend
ECR Packed, Ready For Sao Paulo 300 This Weekend
Tom Blattler
Ed Carpenter Racing
May 1, 2013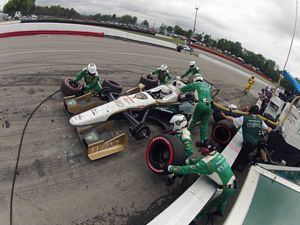 ECR Packed, Ready For Sau Paulo 300
May 1st 2013 - SAO PAULO, Brazil – Ed Carpenter Racing was well prepared for its trip to the Sao Paulo 300 in Brazil this week. It was not as easy last year.
Last year as a first-time IZOD IndyCar Series team, the ECR crew returned from the Long Beach Grand Prix and began the struggle of preparing its two IndyCars and 34 crates of equipment for the flight to South America.
The packing process took a little longer than the team first anticipated but they made their loading time.
This time around, the veteran squad was ready to load the IndyCar Series' cargo planes with time to spare. Nearly 10,000 pounds of equipment and two No. 20 Fuzzy's Ultra Premium Vodka Chevrolet race cars were packed within two days of the team's return from Long Beach.
"Our guys did a great job packing everything and preparing the race cars," said Carpenter, the only team owner/driver in the IZOD IndyCar Series. "Last year, it took a little longer than this time. But the truck returned from Long Beach by Tuesday and by the end of Thursday, everything was packed. It was a well-orchestrated method. We have great guys with plenty of experience, so I was very confident we would have everything set to go."
Carpenter feels confident about the team's performance at the unique 2.6-mile, 11-turn street course in the busy Sao Paulo metro area.
"I really enjoy the Brazil race," said Carpenter. "The course is very unique. It has the longest straightaway in our IZOD IndyCar Series. Just at a mile long. It's longer than Indy and Pocono's straightaways. The fans are really passionate about their racing there too. Of course, so many great drivers have come from Brazil dating back to Emerson (Fittipaldi) and (Ayrton) Senna. And they love their current drivers too."
Carpenter made his debut at Sao Paulo last year and put in a strong showing before his No. 20 Fuzzy's Ultra Premium Vodka Chevrolet was struck from behind, causing a spin. Starting 20th, the Butler University grad drove into the top-ten by lap 20 and was fighting the likes of Marco Andretti, James Hinchcliffe and Graham Rahal for a top-ten position by lap 50.
Unfortunately, on lap 54, Carpenter's machine was hit from behind and forced a spin in turn 11.
"That finish (20th) at Brazil was very disappointing," he said. "We had a top-ten car throughout the race and then we were taken out. It is a long trip for something like that to happen. But I feel good about our car entering this year's race. We'll take last year's experience at Sao Paulo and the first few races this year to prepare the car for this weekend."
Carpenter believes his 2013 mount has been much better than the results sheet currently show. "We have had a pretty good race car in the earlier street races at St. Pete and Long Beach, but our results haven't shown it," Ed said.
"We ran in the top-ten last year there too, but we got hit. I'm optimistic about this week's race for the Fuzzy's Vodka Chevrolet and the ECR team. Of course, the conditions are always changing at that track, especially with the possibility of rain. Right now, the weather forecast looks good but you never know. I am anxious to get there."
If the crew's thrash from Long Beach to Brazil was quick, it will be just as fast following the Sao Paulo trip. The series' cargo planes are scheduled to return on Tuesday, May 7, with the teams' equipment, and practice for this year's Indianapolis 500-Mile Race is set for Saturday, May 11.
"It will be a tough stretch for all of the IndyCar Series crews following Brazil as we have three weeks at Indy and then four straight weekends of racing in June," said Carpenter. "But nothing gets you more excited that the Indy 500. It's our Super Bowl and we are ready for it."
Connect with The Crittenden Automotive Library