Carpenter Clocks 45 Laps Monday at Indy, ECR Stops Early for Engine Changes
Carpenter Clocks 45 Laps Monday at Indy, ECR Stops Early for Engine Changes
Tom Blattler
Ed Carpenter Racing
May 13, 2013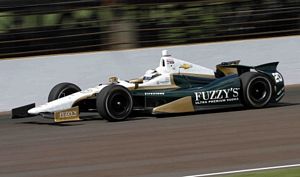 Carpenter Cocks 45 Laps Monday at Indy
May 13th 2013 - INDIANAPOLIS – Ed Carpenter Racing completed its check list for day earlier Monday in Indy 500 practice runs under sunny skies at the Indianapolis Motor Speedway.
It was a dramatic contrast from Monday's cold and windy conditions, as team owner/driver Ed Carpenter recorded 45 laps in the early afternoon at the wheel of the pretty No. 20 Fuzzy's Ultra Premium Vodka Chevrolet.
Due to limited mileage on the Chevrolet V-8 twin-turbo engine, the ECR/Fuzzy's squad parked their machine before 3 p.m. and planned an engine change in preparations for Tuesday's six-hour practice session. Carpenter ran his best speed of the three practice days with a 221.154 miles per hour lap and felt positive about his team's direction with the Dallara DW12 chassis.
"It was good day for us," said Carpenter, who Monday helped unveiled the new Fuzzy's Vodka Limited Edition bottle featuring the Indy 500. "On Sunday, we had some issues but nothing major for the team. But today (Monday), we were able to complete everything on our planned list of things. We were done running before 3 p.m. today and now we can change the motor like we planned. It feels good for everyone on the team when you can move through your schedule without any difficulty. We aren't the fastest on the sheets right now but there are many more days to go."
Marco Andretti clocked the fastest speed of the practice runs so far this week with a 225.100 m.p.h. lap in his RC Cola Chevrolet later in the day Monday. Helio Castroneves was second Monday in a Penske Chevy at 225.075 followed by Ryan Hunter-Reay (224.386), Will Power (223.784) and J.R. Hildebrand (223.624) also in Chevrolets. \
Practice for the 97th Indy 500 continues Tuesday with cars hitting the track at noon.
In the evening, Fuzzy's Ultra Premium Vodka unveiled its Checkered Flag Limited Edition bottle for its award-winning spirit to commemorate its involvement with the Indianapolis Motor Speedway, the Indianapolis 500 Mile Race and INDYCAR.
Fuzzy's Vodka, the primary sponsor for Ed Carpenter Racing, began the concept of the Checkered Flag Limited Edition bottle at last year's Indy 500, as the Indiana-based company looked to create a bottle that showcased its passion for the world's biggest racing event and the highly competitive open-wheel series. Fuzzy's Ultra Premium Vodka looked to capture the history and tradition of the Indianapolis 500 in a bottle. After a long process of design and production spanning nearly a year, the Checkered Flag Limited Edition is available at retail.
Connect with The Crittenden Automotive Library