Little ECR Team Stuns Super Squads Saturday To Win Indy 500 Pole Position
Little ECR Team Stuns Super Squads Saturday To Win Indy 500 Pole Position
Tom Blattler
Ed Carpenter Racing
May 19, 2013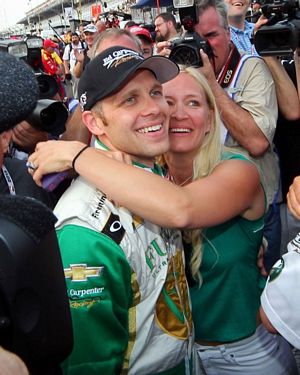 Ed and Heather Carpenter Celebrate After Winning Indy 500 Pole
May 19th 2013 - INDIANAPOLIS – David did beat the Goliaths Saturday at the Indianapolis Motor Speedway when team owner/driver Ed Carpenter shocked the super squads of Penske and Andretti to win the coveted Indy 500 pole position.
Carpenter's upstart, single-car operation proved that solid work and dedication can take out the strongest multi-car open-wheel organizations with a spectacular four-lap qualifying run of 228.762 miles per hour in the No. 20 Fuzzy's Ultra Premium Vodka Chevrolet to win his first Indy 500 pole and his second career IZOD IndyCar Series pole.
Carpenter's first pole position came at the 2010 Kentucky event.
Carpenter's veteran crew and young engineering staff worked extremely hard all winter to prepare for the biggest prize in motorsports and the Indianapolis racer seemed calm with the pole and now focused on the biggest prize next Sunday with the 97th Indianapolis 500-Mile Race.
Led by outgoing general manager Derrick Walker (who moves to INDYCAR's President of Competition following the May 26 event), team manager Tim Broyles and crew chief Bret Schmitt, the Ed Carpenter Racing team is in only its second year but showed that it can produce speed with the best teams. Going against the five-car contingent from Andretti Autosport and the trio of machines from Penske Racing, ECR's engineering staff built a game plan all week for the race and qualifying.
After qualifying fifth in the first round of time trials Saturday, the engineering team of Matt Barnes, Ben Siegel, Brett Harvey, Joe Howard and Ed Delporte continued to improve the No. 20 Fuzzy's Chevy for the unique shootout that started at 6:30 p.m. Saturday. When the dust cleared for the Fast Nine positions, it was Carpenter, the local kid from Park Tudor High School and Butler University, who celebrated at the track in which he grew up just miles away and spent many summers enjoying the racing festivities.
Ironically, Carpenter's mother, father and sister (Laura, Tony and Lauren George) were not in attendance Saturday as they watched from a television in South Bend, Ind., where Lauren will graduate from the University of Notre Dame Sunday. But Ed's wife, Heather, and his young children, Makenna, Ryder and Cruz, were beaming with pride as his team hoisted him in the air in the pit lane after Will Power's final attempt fell short to dethrone Carpenter from the top spot on the famed pylon.
The Indianapolis Motor Speedway crowd was thrilled and yelled their appreciation to Carpenter and his team after qualifying concluded.
Carpenter's final four laps included the fastest lap of the day, 229.347, followed by a 228.976, 228.774 and 227.955 for an average of 228.762. Rookie Carlos Munoz was second at 228.342 followed by Marco Andretti at 228.261, E. J. Viso at 228.150, A.J. Allmendinger at 228.099 and Power at 228.087.
"Wow, what a performance for the ECR team today," said Carpenter after his pole run. "We had a couple of tough days this week but we hung in there and worked hard to get the race and qualifying settings that we liked. After this morning's practice, I felt we probably had a top nine car in qualifying. We just didn't know what the other guys had. I ran a little too hard on the warm lap in the first qualifying round. The car got pretty loose on my fourth lap and our speed dropped off the little. In the shootout, I was cruising on the warm-up and ran a 227 lap. So I was surprised, but pleased. Then the 229 lap right out of the box and I felt the car had a good chance for a good speed. This is an incredible accomplishment for a new second-year team with a single car. I'm very proud of the ECR/Fuzzy's team for their effort and hard work. I think this pole has a lot to do with the work in the off-season too. The wind tunnel tests, the shaker rig, the gearbox testing and the Dallara simulator. All of that combined for a super performance today. Thanks to everyone and now we look to the bigger prize next Sunday."
Connect with The Crittenden Automotive Library