Pole Photos, Race Setup Highlights Carpenter's Day Sunday
Pole Photos, Race Setup Highlights Carpenter's Day Sunday
Tom Blattler
Ed Carpenter Racing
May 19, 2013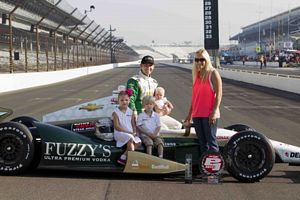 The Carpenters Enjoy the Pole Position Honors
May 19th 2013 - INDIANAPOLIS – The Ed Carpenter Racing team didn't mind the early call to the track Sunday. It meant the most popular event in qualifying – the Pole Position Photos.
The Fuzzy's Ultra Premium Vodka-sponsored squad reported to the Indianapolis Motor Speedway's frontstraight at 8 a.m. as Ed Carpenter stood proudly with his team and his pole-winning No. 20 Fuzzy's Vodka Chevrolet. They stood for photos and the usual "hat dance" with sponsors and manufacturers.
The early morning photo session for the ECR crew highlighted Saturday's spectacular four-lap performance of 228.742 miles per hour that gave Carpenter the coveted Verizon P1 award and the $100,000 prize.
Following the photos, Carpenter and his team concentrated in race setup in the hot, humid track at the legendary two and a half mile oval as air temperatures reached 88 degrees and the track surface was a scorching 130. Despite the tough conditions, Carpenter timed in 51 laps with a best speed of 221.538.
Carpenter was the toast of the track Sunday with adoring fans chasing him down for autographs and photos. In fact, later in the day, it took Ed some 30 minutes to walk from his pit lane box to the ECR garage in "Gasoline Alley." In addition to the fan reaction, the media wanted Carpenter for interviews at every turn. Two morning shows and national radio programs greeted Ed by mid-day and the NBC Sports Network's telecast opened its six-hour show with a Carpenter interview from the ECR garage area. More television reporters continued to flock to the ECR garage in the late afternoon and the IZOD IndyCar Series' only team owner/driver concluded his day with two more live television interviews in Sunday's prime time.
The media attention will ramp up again Monday with Carpenter traveling to Cincinnati with drivers Tony Kanaan and Justin Wilson to promote the 97th Indianapolis 500-Mile Race set for next Sunday. Ed and golf legend Fuzzy Zoeller, founder of Fuzzy's Vodka, Carpenter's primary sponsor, will begin a week-long series of bottle signings throughout the Indianapolis area featuring the new Limited Edition "Checkered Flag" Fuzzy's Vodka bottle with Carpenter leading the field as he will on May 26.
The next time Carpenter and the rest of the 33-driver field hit the Indianapolis Motor Speedway pavement will be this Friday, May 24, for the final practice known as "Carb Day." The popular event will also feature the Pit Stop Championship and a concert by the rock group,"Poison."
"Those track conditions today were not good," said Carpenter. "Hot and humid and the track was slippery. But I think we have a good race car after today. It was great to get all of the crew guys together this morning for the pole and front photos. Last night, I really couldn't celebrate with them due to all of the interviews and making the last half of the Pacers for the Speedway. The Speedway wanted me to be greeted by the Pacers fans there and do a few interviews. That was a great game. It is a tremendous feeling to stand there for the photos this morning and enjoy the performance of Saturday. But we had a full day of working on the race car too. And I was concentrated totally on that today. It's funny. Even after winning the pole, I was thinking about Sunday's setups and what we needed to do today. We achieved one goal Saturday but the bigger prize is next Sunday. Qualifying is always more pressure for me. I really enjoy the race and all that goes with it. It's the tradition of the opening ceremonies. There is nothing else like it in racing."
Connect with The Crittenden Automotive Library