Carpenter, ECR/Fuzzy's Team Testing at Fontana Tuesday, Ready To Defend MAVTV 500 Title
Carpenter, ECR/Fuzzy's Team Testing at Fontana Tuesday, Ready To Defend MAVTV 500 Title
Tom Blattler
Ed Carpenter Racing
September 23, 2013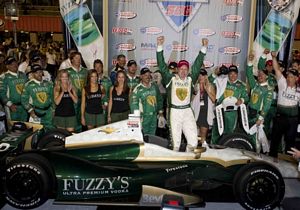 Ed's Victory at 2012 MAVTV 500
September 23rd 2013 - FONTANA, Calif. – Ed Carpenter returns to Auto Club Speedway Tuesday, Sept. 24, for IZOD IndyCar Series testing on the fast two-mile oval, site of the series' season finale MAVTV 500 set for October 19.
As the defending race champion, Carpenter believes he and his ECR/Fuzzy's Vodka team have the confidence and experience to pull off another dramatic victory. Carpenter passed Dario Franchitti on the last lap to win the 500-mile thriller last year on September 15, 2012 in the No. 20 Fuzzy's Ultra Premium Vodka Chevrolet.
"We are anxious to get out to Fontana and test again there," said Carpenter, the series' only team owner/driver. "That race last year was very exciting and there was some great wheel-to-wheel action. With the race being a month later in the schedule than last year, it will be good to spend a day testing with the car and get good perspective of the changes we have made since last year's race."
Last year's MAVTV 500 started in daylight but finished under the lights. Ed and his squad figure to have more night time racing with the event being later in the calendar year.
"In last year's race, the air temperature was over 100 degrees when the green flag dropped and the track cooled down throughout the event," said Carpenter. "We think the racing surface will be cooler this year with the race a month later and with more night racing. But it can still get hot in October in the Fontana area, so testing can definitely help us Tuesday."
Carpenter, the 2013 Indy 500 pole winner, captured his second career IndyCar win at Fontana, but it was the first victory for the Butler University grad as a team owner.
"My first IndyCar Series win came at Kentucky in 2011 with Sarah Fisher's team and that was a spectacular feeling," Carpenter said. "However, winning last year at Fontana with our own team in its rookie season was something special. Not many racing teams can win in their first year of operation. Auto Club Speedway will always be a special place for me."
But Carpenter admits he has put that Fontana win well behind him now. He has set his sights on the Oct. 19 500-miler, the third leg of the Fuzzy's Vodka Triple Crown.
"Our team has been working very hard on our game plan for this year's Fontana race," Carpenter says. "Obviously, winning the last race of the year in 2012 was the highlight to our team's rookie year. This year, winning the pole at Indy was fantastic but we would really like to repeat at Fontana. So we need to be prepared for the challenge. We really want to get back to the Fuzzy's 19th Hole Victory Lane on Oct. 19."
Testing Tuesday at Auto Club Speedway runs from 10:30 a.m. to 6:15 p.m. and the test session is open to the public. Some 15 IZOD IndyCar Series teams are scheduled to be on hand.
Connect with The Crittenden Automotive Library