ECR/Fuzzy's Team Back From Trailer Fire; Ready For Houston Events
ECR/Fuzzy's Team Back From Trailer Fire; Ready For Houston Events
Tom Blattler
Ed Carpenter Racing
October 1, 2013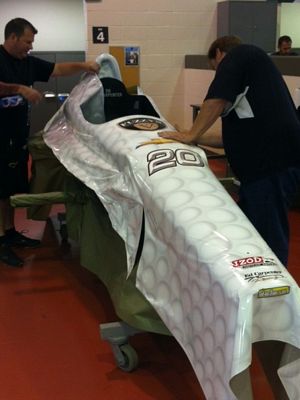 New Skin Goes On No. 20 ECR/Fuzzy's Vodka Chevrolet
October 1st 2013 - INDIANAPOLIS – Just six days ago, Ed Carpenter Racing's tractor/trailer rig was ablaze on an Arizona highway after a successful test session at the Auto Club Speedway in California. Now, the resilient racing operation is set to travel to Houston for this weekend's Shell/Pennzoil Grand Prix of Houston doubleheader near Reliant Stadium.
A rear trailer brake of the team's transporter caught fire some 20 miles west of Flagstaff, Ariz., early last Wednesday morning and, with only few minutes to spare, the No. 20 Fuzzy's Ultra Premium Vodka Dallara Chevrolet race car and other equipment was saved from being a total loss.
"We found out about the fire at 4:45 a.m. CDT when we landed in Chicago after the Fontana test," said ECR team manager Tim Broyles. "When we got the first call, the trailer was still on fire."
Broyles calculated that another ten minutes of flames and the entire trailer (with the race car and all of the contents) would have burnt to the ground.
"It took about 19 minutes for the fire department to show up on the highway," said Broyles. "The truck and trailer were quite a ways out of town. So we were very fortunate that we didn't have a lot more damage than we did. Shortly after we found out about the fire, we contacted all of our partners to give them a complete update at that point. Immediately after that, we were contacted by several IndyCar teams who reached out to us to offer any assistance."
Team owner/driver Carpenter explained that the IndyCar Series community was anxious to help his racing organization to get back on its feet after such a devastating blow.
"It has been a tough week for the ECR/Fuzzy Vodka team, to say the least," said Carpenter, the defending Fontana race winner. "The trailer fire in Arizona last Wednesday made everything a real scramble to get ready for the Houston race. But I'm so proud of this team and how they came together to get things cleaned up and prepared. We were able to obtain the trailer from Dreyer & Reinbold's team as well as some added equipment. But luckily, we were able to salvage a lot of things from the fire. It was a massive cleanup operation for the guys as well as they having to prepare the Houston race car.
"The Fontana car received some smoke damage so it had to be repainted and rebuilt. We'll have just one car at Houston this weekend. We want to thank everyone who offered their assistance during the week and Andretti Autosport for delivering the race car and some parts back to Indy for us."
Broyles says the team worked countless hours throughout the weekend to clean up the race car and the various parts involved in the fire and prepare for this weekend's Houston event.
"We will use the DRR trailer, fueling rig and golf cart and a few other items in Houston," he said. "They have been very helpful to us. We would like to show our appreciation to Andretti Autosport also. Their truck stopped and helped get a lot of the equipment from the back our trailer in Arizona. They loaded the race car, tool boxes, setup pad and wheels and other equipment to get it back to Indy by Thursday. They have also offered other equipment. It has been great to see how many friends we have the paddock area. The teams and the manufacturers have reached out to us and everyone has been so helpful."
Broyles said the smoke damage was the toughest to deal with once everything returned to the ECR racing shop in Indianapolis.
"When we got the car and parts back, the worst thing was that everything was covered in soot," he admitted. "The car had soot everywhere including under the car and inside it. We had to completely strip the car down to the bare bones and put the tub in the paint shop. Everything had to be scrubbed and cleaned including the wiring. We were very fortunate that there wasn't any damage to the car.
"Our truck drivers Matt (Giese) and Jeff (Hughes) got back to Indy on Friday night with truck, the rented trailer and the leftover contents from the damaged trailer. We off loaded those items on Saturday and started working through what we had left. We had some damage to the timing stand, the fuel rig, and the golf cart is pretty much a write off. For the most part, we were able to clean everything up. We will be able to use our timing stand in Houston."
Broyles says the team set up a massive cleaning operation that went until Monday.
"Everyone with the team has really dug in and we're very proud of our guys for the effort they have put in since the incident," he said. "The guys have done everything from cleaning pit equipment, wheels and pretty much everything on the damage trailer. Plus we had to get the race car ready for Houston with an engine change and other setup projects. It's been a huge team effort on our guys' part here at ECR."
Broyles explains that all race teams do whatever it takes to get to the next race and compete. "In general, racers work differently than a normal job industry," he said. "Whether that is recovering from an accident to get the next race or a setback like this one with the trailer fire, we will be ready. It's not something that most teams have to deal with, although the Penske team had a similar incident a few years ago. It's very hard to describe. When you get that first phone call, you want to make sure that your guys in the truck are okay. Then the next thing you are trying to figure out if there is going to be anything left after the fire. And we are fortunate that we had as much stuff make it through it as it did. As racers, that's how we operate. We just do the job at hand and everyone digs in and works hard to get through the adversity."
Giese and Hughes, despite the incredible misfortune last Wednesday in Arizona, are back on the road Tuesday night, driving the ECR/Fuzzy's big rig to Houston for this weekend's events.
"We worked all weekend to make everything happen for the Houston race," said Broyles. "We are in pretty good shape now, some six days after the incident. We have the race car prepped and the truck is ready and loaded for the trip to Houston. Most of the smoke damage has been cleaned up. It just shows how racers operate in this type of situation."
The ECR/Fuzzy's Vodka team will take Carpenter's race car through INDYCAR technical inspection Thursday at Reliant Stadium and will be ready for Friday's morning practice at 10:30 a.m. CDT at the 1.7-mile, 10-turn temporary road circuit.
Connect with The Crittenden Automotive Library