Carpenter Survives 1st Day at Houston, ECR/Fuzzy's Team Learning Track Friday
Carpenter Survives 1st Day at Houston, ECR/Fuzzy's Team Learning Track Friday
Tom Blattler
Ed Carpenter Racing
October 4, 2013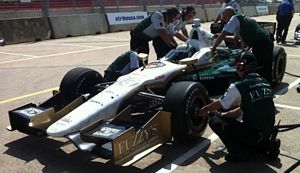 First Day at Houston tough on the teams and drivers.
October 4th 2013 - HOUSTON – The opening day of action at the Shell/Pennzoil Grand Prix of Houston was delayed Friday with various track surface issues at the 1.7-mile, 14-turn temporary circuit near the famed Astrodome and Reliant Stadium.
After adding a chicane on the front straightaway to miss a large track bump, the IZOD IndyCar Series action got underway with two 45-minute practice sessions. The scheduled Firestone Fast Six qualifying format was postponed to Saturday morning at 10:45 a.m. CDT. The first 90-lap feature of the weekend will take place at 2:40 p.m. CDT Saturday.
Team owner/driver Ed Carpenter experienced one of his most unusual practice days in the No. 20 Fuzzy's Ultra Premium Vodka Chevrolet. Carpenter's ECR/Fuzzy's Vodka team had recovered from a transporter trailer fire just nine days previously, but the Indy-based squad was set for competition when the green flag flew for the first practice runs at 1 p.m. CDT.
The Reliant Park road course was all new to the veteran Carpenter. Several of the IZOD IndyCar Series drivers had competed at the circuit back in 2006 and 2007 when racing in the ChampCar Series. Ed was able to complete ten laps in the opening session while dodging several incidents in the 45-minute practice. Carpenter posted a best time of 69.891 seconds.
In the second practice, Carpenter improved some 2.5 seconds to clock a top time of 67.3327 seconds. Justin Wilson was the quickest driver in Friday's runs with a sensational 64.423 seconds, some four-tenths better than second place Will Power. Both Wilson and Power competed at Reliant in the ChampCar races.
"I would be lying if I didn't say this is one of the more odd practice days of my career," said Carpenter. "It seems even worse than Baltimore's first race. It's a tough place. It's rough. It's slick. There were so many yellows that we missed a lot of track time today. I will say that I like this schedule format than the other doubleheaders with the Friday qualifying. We'll be qualifying on Saturday and Sunday now. We made some progress today and I am getting more comfortable with the track."
Connect with The Crittenden Automotive Library