Carpenter To Start 23rd in Houston Race 1 Saturday
Carpenter To Start 23rd in Houston Race 1 Saturday
Tom Blattler
Ed Carpenter Racing
October 5, 2013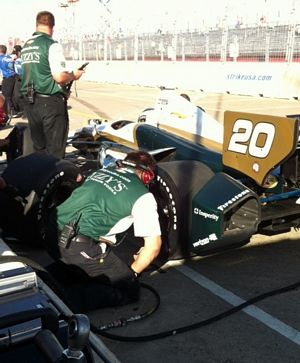 Ed will start 23rd in Saturday's Houston race.
October 5th 2013 - HOUSTON -- Ed Carpenter will start 23rd in Saturday's 90-lap Shell/Pennzoil Grand Prix of Houston at the 1.7-mile, 14-turn temporary road circuit near Reliant Stadium.
The team owner/driver of the No. 20 Fuzzy's Ultra Premium Vodka Chevrolet clocked a best of 63.519 seconds for an average speed of 92.608 miles per hour on Saturday morning. Qualifying was postponed from Friday after the parking lot circuit was reconstructed on Friday evening.
"The track is different now without the chicane on the front straight," said Carpenter. "We just haven't been able to get the rear grip we need. The car is sliding a lot. We'll work on some settings for the race now. It's going to be hot, tough race this afternoon."
Takuma Sato won the pole position Saturday for local favorite A.J. Foyt's team. The first event of the doubleheader weekend will start at 2:53 p.m. CDT and will be televised live on NBC Sports Network starting a 2 p.m. CDT.
Sunday's race will start at 12:40 p.m. CDT and also on NBC Sports Network.
Connect with The Crittenden Automotive Library