Conway Takes ECR/Fuzzy's Vodka Chevy To Victory at Long Beach
Conway Takes ECR/Fuzzy's Vodka Chevy To Victory at Long Beach
Tom Blattler
Ed Carpenter Racing
April 14, 2014

Microsoft Word version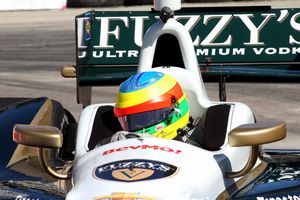 Mike Conway came from 17th to win his second Long Beach title.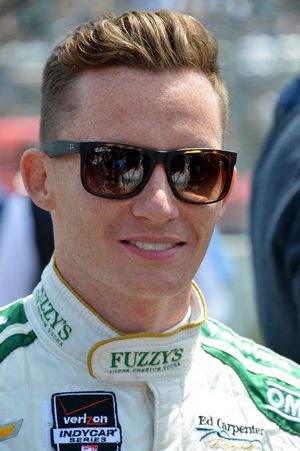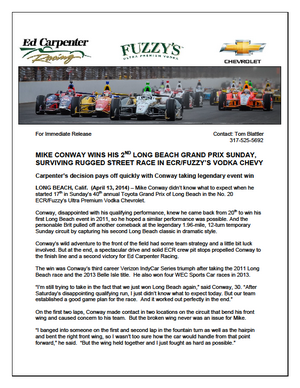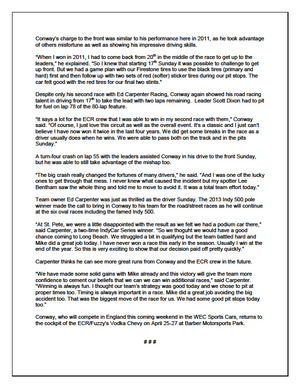 April 14th 2014 - LONG BEACH, Calif.– Mike Conway didn't know what to expect when he started 17th in Sunday's 40th annual Toyota Grand Prix of Long Beach in the No. 20 ECR/Fuzzy's Ultra Premium Vodka Chevrolet.
Conway, disappointed with his qualifying performance, knew he came back from 20th to win his first Long Beach event in 2011, so he hoped a similar performance was possible. And the personable Brit pulled off another comeback at the legendary 1.96-mile, 12-turn temporary Sunday circuit by capturing his second Long Beach classic in dramatic style.
Conway's wild adventure to the front of the field had some team strategy and a little bit luck involved. But at the end, a spectacular drive and solid ECR crew pit stops propelled Conway to the finish line and a second victory for Ed Carpenter Racing.
The win was Conway's third career Verizon IndyCar Series triumph after taking the 2011 Long Beach race and the 2013 Belle Isle title. He also won four WEC Sports Car races in 2013.
"I'm still trying to take in the fact that we just won Long Beach again," said Conway, 30. "After Saturday's disappointing qualifying run, I just didn't know what to expect today. But our team established a good game plan for the race. And it worked out perfectly in the end."
On the first two laps, Conway made contact in two locations on the circuit that bend his front wing and caused concern to his team. But the broken wing never was an issue for Mike.
"I banged into someone on the first and second lap in the fountain turn as well as the hairpin and bent the right front wing, so I wasn't too sure how the car would handle from that point forward," he said. "But the wing held together and I just fought as hard as possible."
Conway's charge to the front was similar to his performance here in 2011, as he took advantage of others misfortune as well as showing his impressive driving skills.
"When I won in 2011, I had to come back from 20th in the middle of the race to get up to the leaders," he explained. "So I knew that starting 17th Sunday it was possible to challenge to get up front. But we had a game plan with our Firestone tires to use the black tires (primary and hard) first and then follow up with two sets of red (softer) sticker tires during our pit stops. The car felt good with the red tires for our final two stints."
Despite only his second race with Ed Carpenter Racing, Conway again showed his road racing talent in driving from 17th to take the lead with two laps remaining. Leader Scott Dixon had to pit for fuel on lap 78 of the 80-lap feature.
"It says a lot for the ECR crew that I was able to win in my second race with them," Conway said. "Of course, I just love this circuit as well as the overall event. It's a classic and I just can't believe I have now won it twice in the last four years. We did get some breaks in the race as a driver usually does when he wins. We were able to pass both on the track and in the pits Sunday."
A turn-four crash on lap 55 with the leaders assisted Conway in his drive to the front Sunday, but he was able to still take advantage of the mishap too.
"The big crash really changed the fortunes of many drivers," he said. "And I was one of the lucky ones to get through that mess. I never knew what caused the incident but my spotter Lee Bentham saw the whole thing and told me to move to avoid it. It was a total team effort today."
Team owner Ed Carpenter was just as thrilled as the driver Sunday. The 2013 Indy 500 pole winner made the call to bring in Conway to his team for the road/street races as he will continue at the six oval races including the famed Indy 500.
"At St. Pete, we were a little disappointed with the result as we felt we had a podium car there," said Carpenter, a two-time IndyCar Series winner. "So we thought we would have a good chance coming to Long Beach. We struggled a bit in qualifying but the team battled hard and Mike did a great job today. I have never won a race this early in the season. Usually I win at the end of the year. So this is very exciting to show that our decision paid off pretty quickly."
Carpenter thinks he can see more great runs from Conway and the ECR crew in the future.
"We have made some solid gains with Mike already and this victory will give the team more confidence to cement our beliefs that we can we can win additional races," said Carpenter. "Winning is always fun. I thought our team's strategy was good today and we chose to pit at proper times too. Timing is always important in a race. Mike did a great job avoiding the big accident too. That was the biggest move of the race for us. We had some good pit stops today too."
Conway, who will compete in England this coming weekend in the WEC Sports Cars, returns to the cockpit of the ECR/Fuzzy's Vodka Chevy on April 25-27 at Barber Motorsports Park.
Connect with The Crittenden Automotive Library