Hildebrand's Indy 500 Return Has Him Excited To Be With ECR
Hildebrand's Indy 500 Return Has Him Excited To Be With ECR
Tom Blattler
Ed Carpenter Racing
April 21, 2014

Microsoft Word version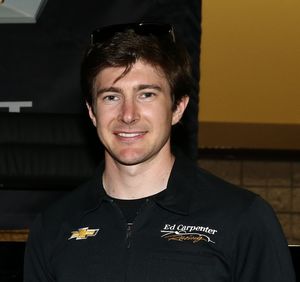 Here's what JR Hildebrand's Preferred Freezer Services Chevy will look like at the Indy 500.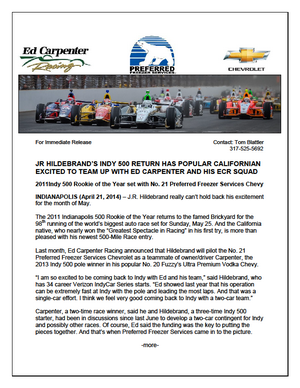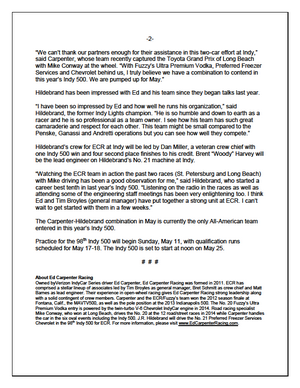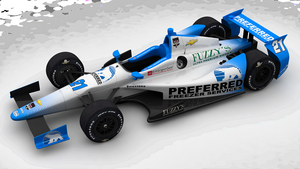 April 21st 2014 - INDIANAPOLIS – J.R. Hildebrand really can't hold back his excitement for the month of May.
The 2011 Indianapolis 500 Rookie of the Year returns to the famed Brickyard for the 98th running of the world's biggest auto race set for Sunday, May 25. And the California native, who nearly won the "Greatest Spectacle in Racing" in his first try, is more than pleased with his newest 500-Mile Race entry.
Last month, Ed Carpenter Racing announced that Hildebrand will pilot the No. 21 Preferred Freezer Services Chevrolet as a teammate of owner/driver Carpenter, the 2013 Indy 500 pole winner in his popular No. 20 Fuzzy's Ultra Premium Vodka Chevy.
"I am so excited to be coming back to Indy with Ed and his team," said Hildebrand, who has 34 career Verizon IndyCar Series starts. "Ed showed last year that his operation can be extremely fast at Indy with the pole and leading the most laps. And that was a single-car effort. I think we feel very good coming back to Indy with a two-car team."
Carpenter, a two-time race winner, said he and Hildebrand, a three-time Indy 500 starter, had been in discussions since last June to develop a two-car contingent for Indy and possibly other races. Of course, Ed said the funding was the key to putting the pieces together. And that's when Preferred Freezer Services came in to the picture.
"We can't thank our partners enough for their assistance in this two-car effort at Indy," said Carpenter, whose team recently captured the Toyota Grand Prix of Long Beach with Mike Conway at the wheel. "With Fuzzy's Ultra Premium Vodka, Preferred Freezer Services and Chevrolet behind us, I truly believe we have a combination to contend in this year's Indy 500. We are pumped up for May."
Hildebrand has been impressed with Ed and his team since they began talks last year. "I have been so impressed by Ed and how well he runs his organization," said Hildebrand, the former Indy Lights champion. "He is so humble and down to earth as a racer and he is so professional as a team owner. I see how his team has such great camaraderie and respect for each other. This team might be small compared to the Penske, Ganassi and Andretti operations but you can see how well they compete."
Hildebrand's crew for ECR at Indy will be led by Dan Miller, a veteran crew chief with one Indy 500 win and four second place finishes to his credit. Brent "Woody" Harvey will be the lead engineer on Hildebrand's No. 21 machine at Indy.
"Watching the ECR team in action the past two races (St. Petersburg and Long Beach) with Mike driving has been a good observation for me," said Hildebrand, who started a career best tenth in last year's Indy 500. "Listening on the radio in the races as well as attending some of the engineering staff meetings has been very enlightening too. I think Ed and Tim Broyles (general manager) have put together a strong unit at ECR. I can't wait to get started with them in a few weeks."
The Carpenter-Hildebrand combination in May is currently the only All-American team entered in this year's Indy 500.
Practice for the 98th Indy 500 will begin Sunday, May 11, with qualification runs scheduled for May 17-18. The Indy 500 is set to start at noon on May 25.
Connect with The Crittenden Automotive Library