Wild Weather Friday at IMS Rough on Teams, Conway Improves
Wild Weather Friday at IMS Rough on Teams, Conway Improves
Tom Blattler
Ed Carpenter Racing
May 9, 2014

Microsoft Word version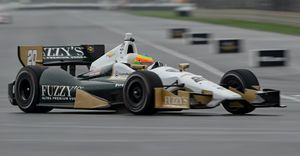 Mike Conway improved his speed at IMS today.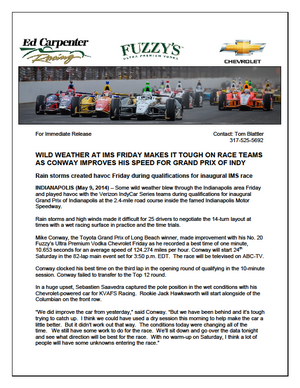 May 9th 2014 - INDIANAPOLIS – Some wild weather blew through the Indianapolis area Friday and played havoc with the Verizon IndyCar Series teams during qualifications for inaugural Grand Prix of Indianapolis at the 2.4-mile road course inside the famed Indianapolis Motor Speedway.
Rain storms and high winds made it difficult for 25 drivers to negotiate the 14-turn layout at times with a wet racing surface in practice and the time trials.
Mike Conway, the Toyota Grand Prix of Long Beach winner, made improvement with his No. 20 Fuzzy's Ultra Premium Vodka Chevrolet Friday as he recorded a best time of one minute, 10.653 seconds for an average speed of 124.274 miles per hour. Conway will start 24th Saturday in the 82-lap main event set for 3:50 p.m. EDT. The race will be televised on ABC-TV.
Conway clocked his best time on the third lap in the opening round of qualifying in the 10-minute session. Conway failed to transfer to the Top 12 round.
In a huge upset, Sebastien Saavedra captured the pole position in the wet conditions with his Chevrolet-powered car for KVAFS Racing. Rookie Jack Hawksworth will start alongside of the Columbian on the front row.
"We did improve the car from yesterday," said Conway. "But we have been behind and it's tough trying to catch up. I think we could have used a dry session this morning to help make the car a little better. But it didn't work out that way. The conditions today were changing all of the time. We still have some work to do for the race. We'll sit down and go over the data tonight and see what direction will be best for the race. With no warm-up on Saturday, I think a lot of people will have some unknowns entering the race."
Connect with The Crittenden Automotive Library