Carpenter, Hildebrand Show Speed Sunday in Indy 500 Practice
Carpenter, Hildebrand Show Speed Sunday in Indy 500 Practice
Tom Blattler
Ed Carpenter Racing
May 11, 2014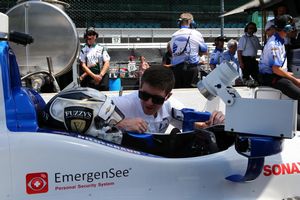 Carpenter checked out Hildebrand's ride first Sunday before JR set 4th fastest speed.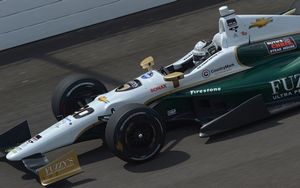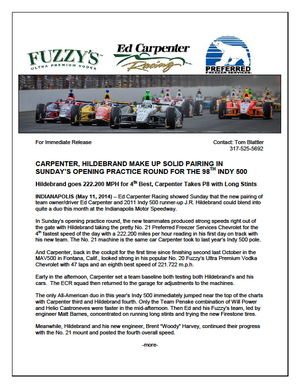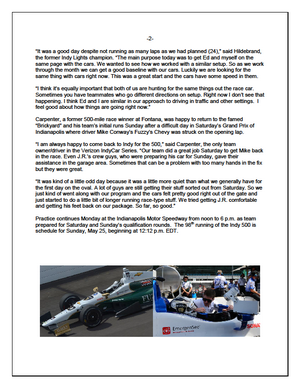 May 11th 2014 - INDIANAPOLIS – Ed Carpenter Racing showed Sunday that the new pairing of team owner/driver Ed Carpenter and 2011 Indy 500 runner-up J.R. Hildebrand could blend into quite a duo this month at the Indianapolis Motor Speedway.
In Sunday's opening practice round, the new teammates produced strong speeds right out of the gate with Hildebrand taking the pretty No. 21 Preferred Freezer Services Chevrolet for the 4th fastest speed of the day with a 222.200 miles per hour reading in his first day on track with his new team. The No. 21 machine is the same car Carpenter took to last year's Indy 500 pole.
And Carpenter, back in the cockpit for the first time since finishing second last October in the MAV500 in Fontana, Calif., looked strong in his popular No. 20 Fuzzy's Ultra Premium Vodka Chevrolet with 47 laps and an eighth best speed of 221.722 m.p.h. Early in the afternoon, Carpenter set a team baseline both testing both Hildebrand's and his cars. The ECR squad then returned to the garage for adjustments to the machines.
The only All-American duo in this year's Indy 500 immediately jumped near the top of the charts with Carpenter third and Hildebrand fourth. Only the Team Penske combination of Will Power and Helio Castroneves were faster in the mid-afternoon.
Then Ed and his Fuzzy's team, led by engineer Matt Barnes, concentrated on running long stints and trying the new Firestone tires. Meanwhile, Hildebrand and his new engineer, Brent "Woody" Harvey, continued their progress with the No. 21 mount and posted the fourth overall speed.
"It was a good day despite not running as many laps as we had planned (24)," said Hildebrand, the former Indy Lights champion. "The main purpose today was to get Ed and myself on the same page with the cars. We wanted to see how we worked with a similar setup. So as we work through the month we can get a good baseline with our cars. Luckily we are looking for the same thing with cars right now. This was a great start and the cars have some speed in them.
"I think it's equally important that both of us are hunting for the same things out the race car. Sometimes you have teammates who go different directions on setup. Right now I don't see that happening. I think Ed and I are similar in our approach to driving in traffic and other settings. I feel good about how things are going right now."
Carpenter, a former 500-mile race winner at Fontana, was happy to return to the famed "Brickyard" and his team's initial runs Sunday after a difficult day in Saturday's Grand Prix of Indianapolis where driver Mike Conway's Fuzzy's Chevy was struck on the opening lap.
"I am always happy to come back to Indy for the 500," said Carpenter, the only team owner/driver in the Verizon IndyCar Series. "Our team did a great job Saturday to get Mike back in the race. Even J.R.'s crew guys, who were preparing his car for Sunday, gave their assistance in the garage area. Sometimes that can be a problem with too many hands in the fix but they were great.
"It was kind of a little odd day because it was a little more quiet than what we generally have for the first day on the oval. A lot of guys are still getting their stuff sorted out from Saturday. So we just kind of went along with our program and the cars felt pretty good right out of the gate and just started to do a little bit of longer running race-type stuff. We tried getting J.R. comfortable and getting his feet back on our package. So far, so good."
Practice continues Monday at the Indianapolis Motor Speedway from noon to 6 p.m. as team prepared for Saturday and Sunday's qualification rounds. The 98th running of the Indy 500 is schedule for Sunday, May 25, beginning at 12:12 p.m. EDT.
Connect with The Crittenden Automotive Library