Windy, Humid Conditions Make IMS Tricky Monday, ECR Team Works on Race Setups
Windy, Humid Conditions Make IMS Tricky Monday, ECR Team Works on Race Setups
Tom Blattler
Ed Carpenter Racing
May 12, 2014

Microsoft Word version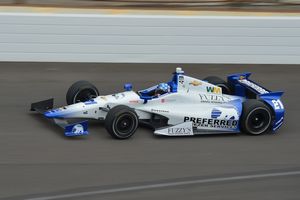 JR clocked 221.266 mph Monday with 79 laps in practice.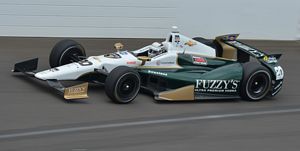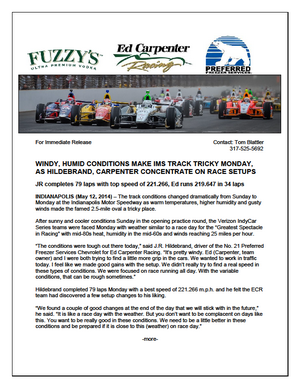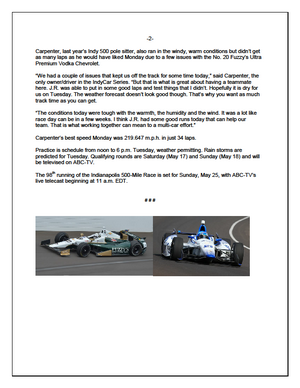 May 12th 2014 - INDIANAPOLIS (May 12, 2014) – The track conditions changed dramatically from Sunday to Monday at the Indianapolis Motor Speedway as warm temperatures, higher humidity and gusty winds made the famed 2.5-mile oval a tricky place.
After sunny and cooler conditions Sunday in the opening practice round, the Verizon IndyCar Series teams were faced Monday with weather similar to a race day for the "Greatest Spectacle in Racing" with mid-80s heat, humidity in the mid-60s and winds reaching 25 miles per hour.
"The conditions were tough out there today," said J.R. Hildebrand, driver of the No. 21 Preferred Freezer Services Chevrolet for Ed Carpenter Racing. "It's pretty windy. Ed (Carpenter, team owner) and I were both trying to find a little more grip in the cars. We wanted to work in traffic today. I feel like we made good gains with the setup. We didn't really try to find a real speed in these types of conditions. We were focused on race running all day. With the variable conditions, that can be rough sometimes."
Hildebrand completed 79 laps Monday with a best speed of 221.266 m.p.h. and he felt the ECR team had discovered a few setup changes to his liking.
"We found a couple of good changes at the end of the day that we will stick with in the future," he said. "It is like a race day with the weather. But you don't want to be complacent on days like this. You want to be really good in these conditions. We need to be a little better in these conditions and be prepared if it is close to this (weather) on race day."
Carpenter, last year's Indy 500 pole sitter, also ran in the windy, warm conditions but didn't get as many laps as he would have liked Monday due to a few issues with the No. 20 Fuzzy's Ultra Premium Vodka Chevrolet.
"We had a couple of issues that kept us off the track for some time today," said Carpenter, the only owner/driver in the IndyCar Series. "But that is what is great about having a teammate here. J.R. was able to put in some good laps and test things that I didn't. Hopefully it is dry for us on Tuesday. The weather forecast doesn't look good though. That's why you want as much track time as you can get.
"The conditions today were tough with the warmth, the humidity and the wind. It was a lot like race day can be in a few weeks. I think J.R. had some good runs today that can help our team. That is what working together can mean to a multi-car effort."
Carpenter's best speed Monday was 219.647 m.p.h. in just 34 laps.
Practice is schedule from noon to 6 p.m. Tuesday, weather permitting. Rain storms are predicted for Tuesday. Qualifying rounds are Saturday (May 17) and Sunday (May 18) and will be televised on ABC-TV.
The 98th running of the Indianapolis 500-Mile Race is set for Sunday, May 25, with ABC-TV's live telecast beginning at 11 a.m. EDT.
Connect with The Crittenden Automotive Library