After Rain Finally Stops, Hildebrand & Carpenter Find Speed Wednesday at IMS
After Rain Finally Stops, Hildebrand & Carpenter Find Speed Wednesday at IMS
Tom Blattler
Ed Carpenter Racing
May 14, 2014

Microsoft Word version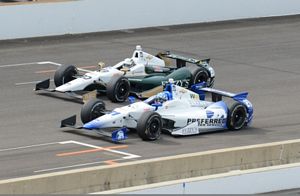 Jr and Ed found more speed Wednesday in practice at IMS.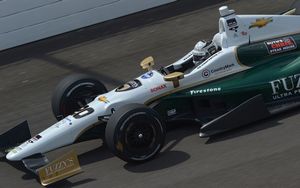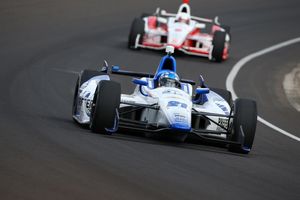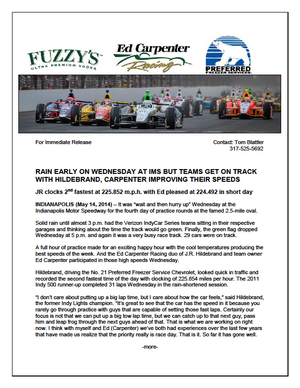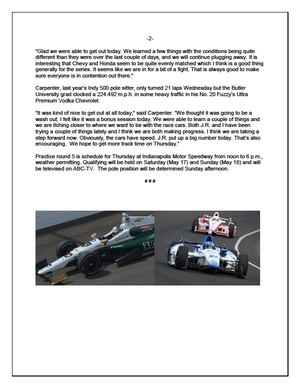 May 14th 2014 - INDIANAPOLIS – It was "wait and then hurry up" Wednesday at the Indianapolis Motor Speedway for the fourth day of practice rounds at the famed 2.5-mile oval.
Solid rain until almost 3 p.m. had the Verizon IndyCar Series teams sitting in their respective garages and thinking about the time the track would go green. Finally, the green flag dropped Wednesday at 5 p.m. and again it was a very busy race track. 29 cars were on track.
A full hour of practice made for an exciting happy hour with the cool temperatures producing the best speeds of the week. And the Ed Carpenter Racing duo of J.R. Hildebrand and team owner Ed Carpenter participated in those high speeds Wednesday.
Hildebrand, driving the No. 21 Preferred Freezer Service Chevrolet, looked quick in traffic and recorded the second fastest time of the day with clocking of 225.854 miles per hour. The 2011 Indy 500 runner-up completed 31 laps Wednesday in the rain-shortened session.
"I don't care about putting up a big lap time, but I care about how the car feels," said Hildebrand, the former Indy Lights champion. "It's great to see that the car has the speed in it because you rarely go through practice with guys that are capable of setting those fast laps. Certainly our focus is not that we can put up a big tow lap time, but we can catch up to that next guy, pass him and leap frog through the next guys ahead of that. That is what we are working on right now. I think with myself and Ed (Carpenter) we've both had experiences over the last few years that have made us realize that the priority really is race day. That is it. So far it has gone well.
"Glad we were able to get out today. We learned a few things with the conditions being quite different than they were over the last couple of days, and we will continue plugging away. It is interesting that Chevy and Honda seem to be quite evenly matched which I think is a good thing generally for the series. It seems like we are in for a bit of a fight. That is always good to make sure everyone is in contention out there."
Carpenter, last year's Indy 500 pole sitter, only turned 21 laps Wednesday but the Butler University grad clocked a 224.492 m.p.h. in some heavy traffic in his No. 20 Fuzzy's Ultra Premium Vodka Chevrolet.
"It was kind of nice to get out at all today," said Carpenter. "We thought it was going to be a wash out. I felt like it was a bonus session today. We were able to learn a couple of things and we are itching closer to where we want to be with the race cars. Both J.R. and I have been trying a couple of things lately and I think we are both making progress. I think we are taking a step forward now. Obviously, the cars have speed. J.R. put up a big number today. That's also encouraging. We hope to get more track time on Thursday."
Practice round 5 is schedule for Thursday at Indianapolis Motor Speedway from noon to 6 p.m., weather permitting. Qualifying will be held on Saturday (May 17) and Sunday (May 18) and will be televised on ABC-TV. The pole position will be determined Sunday afternoon.
Connect with The Crittenden Automotive Library