Carpenter Posts 226.257 MPH Thursday for 2nd at IMS
Carpenter Posts 226.257 MPH Thursday for 2nd at IMS
Tom Blattler
Ed Carpenter Racing
May 15, 2014

Microsoft Word version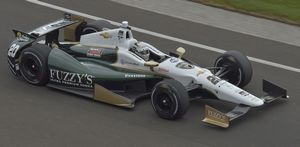 ECR's Ed Carpenter was fast Thursday with a 226.257 speed.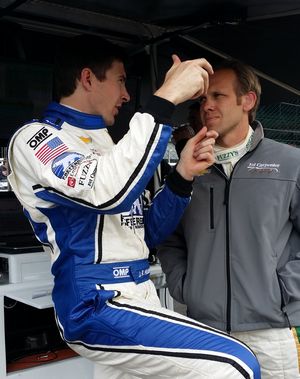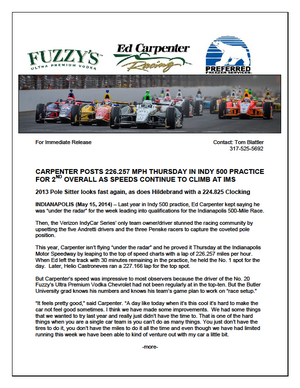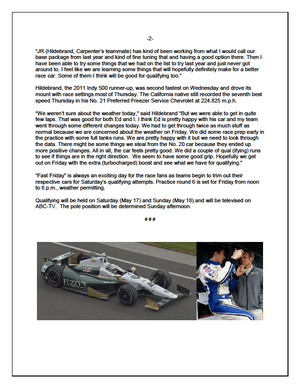 May 15th 2014 - INDIANAPOLIS – Last year in Indy 500 practice, Ed Carpenter kept saying he was "under the radar" for the week leading into qualifications for the Indianapolis 500-Mile Race.
Then, the Verizon IndyCar Series' only team owner/driver stunned the racing community by upsetting the five Andretti drivers and the three Penske racers to capture the coveted pole position.
This year, Carpenter isn't flying "under the radar" and he proved it Thursday at the Indianapolis Motor Speedway by leaping to the top of speed charts with a lap of 226.257 miles per hour. When Ed left the track with 30 minutes remaining in the practice, he held the No. 1 spot for the day. Later, Helio Castroneves ran a 227.166 lap for the top spot.
But Carpenter's speed was impressive to most observers because the driver of the No. 20 Fuzzy's Ultra Premium Vodka Chevrolet had not been regularly at in the top-ten. But the Butler University grad knows his numbers and knows his team's game plan to work on "race setup."
"It feels pretty good," said Carpenter. "A day like today when it's this cool it's hard to make the car not feel good sometimes. I think we have made some improvements. We had some things that we wanted to try last year and really just didn't have the time to. That is one of the hard things when you are a single car team is you can't do as many things. You just don't have the tires to do it, you don't have the miles to do it all the time and even though we have had limited running this week we have been able to kind of venture out with my car a little bit.
"JR (Hildebrand, Carpenter's teammate) has kind of been working from what I would call our base package from last year and kind of fine tuning that and having a good option there. Then I have been able to try some things that we had on the list to try last year and just never got around to. I feel like we are learning some things that will hopefully definitely make for a better race car. Some of them I think will be good for qualifying too."
Hildebrand, the 2011 Indy 500 runner-up, was second fastest on Wednesday and drove its mount with race settings most of Thursday. The California native still recorded the seventh best speed Thursday in his No. 21 Preferred Freezer Service Chevrolet at 224.825 m.p.h.
"We weren't sure about the weather today," said Hildebrand "But we were able to get in quite few laps. That was good for both Ed and I. I think Ed is pretty happy with his car and my team went through some different changes today. We had to get through twice as much stuff as normal because we are concerned about the weather on Friday. We did some race prep early in the practice with some full tanks runs. We are pretty happy with it but we need to look through the data. There might be some things we steal from the No. 20 car because they ended up more positive changes. All in all, the car feels pretty good. We did a couple of qual (ifying) runs to see if things are in the right direction. We seem to have some good grip. Hopefully we get out on Friday with the extra (turbocharged) boost and see what we have for qualifying."
"Fast Friday" is always an exciting day for the race fans as teams begin to trim out their respective cars for Saturday's qualifying attempts. Practice round 6 is set for Friday from noon to 6 p.m., weather permitting.
Qualifying will be held on Saturday (May 17) and Sunday (May 18) and will be televised on ABC-TV. The pole position will be determined Sunday afternoon.
Connect with The Crittenden Automotive Library