Hildebrand Makes Sunday's Fast Nine Shootout In Preferred Freezer Chevy
Hildebrand Makes Sunday's Fast Nine Shootout In Preferred Freezer Chevy
Tom Blattler
Ed Carpenter Racing
May 17, 2014

Microsoft Word version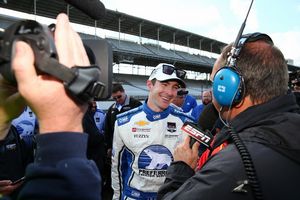 JR sat in his race car for 35 minutes late Saturday and was happy to make Fast Nine Shootout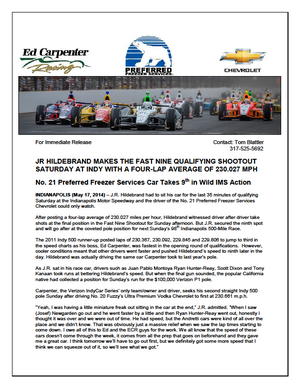 May 17th 2014 - INDIANAPOLIS– J.R. Hildebrand had to sit his car for the last 35 minutes of qualifying Saturday at the Indianapolis Motor Speedway and the driver of the No. 21 Preferred Freezer Services Chevrolet could only watch.
After posting a four-lap average of 230.027 miles per hour, Hildebrand witnessed driver after driver take shots at the final position in the Fast Nine Shootout for Sunday afternoon. But J.R. secured the ninth spot and will go after at the coveted pole position for next Sunday's 98th Indianapolis 500-Mile Race.
The 2011 Indy 500 runner-up posted laps of 230.367, 230.092, 229.845 and 229.806 to jump to third in the speed charts as his boss, Ed Carpenter, was fastest in the opening round of qualifications. However, cooler conditions meant that other drivers went faster and pushed Hildebrand's speed to ninth later in the day. Hildebrand was actually driving the same car Carpenter took to last year's pole.
As J.R. sat in his race car, drivers such as Juan Pablo Montoya Ryan Hunter-Reay, Scott Dixon and Tony Kanaan took runs at bettering Hildebrand's speed. But when the final gun sounded, the popular California native had collected a position for Sunday's run for the $100,000 Verizon P1 pole.
Carpenter, the Verizon IndyCar Series' only team/owner and driver, seeks his second straight Indy 500 pole Sunday after driving No. 20 Fuzzy's Ultra Premium Vodka Chevrolet to first at 230.661 m.p.h.
"Yeah, I was having a little miniature freak out sitting in the car at the end," J.R. admitted. "When I saw (Josef) Newgarden go out and he went faster by a little and then Ryan Hunter-Reay went out, honestly I thought it was over and we were out of time. He had speed, but the Andretti cars were kind of all over the place and we didn't know. That was obviously just a massive relief when we saw the lap times starting to come down. I owe all of this to Ed and the ECR guys for the work. We all know that the speed of these cars doesn't come through the week, it comes from all the prep that goes on beforehand and they gave me a great car. I think tomorrow we'll have to go out first, but we definitely got some more speed that I think we can squeeze out of it, so we'll see what we got."
Connect with The Crittenden Automotive Library