Carpenter Secures Fastest Speed Saturday, Set for Sunday Fast Nine Shootout
Carpenter Secures Fastest Speed Saturday, Set for Sunday Fast Nine Shootout
Tom Blattler
Ed Carpenter Racing
May 17, 2014

Microsoft Word version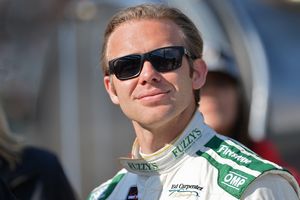 Ed ran 230.661 mph for four laps Saturday.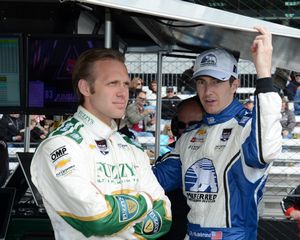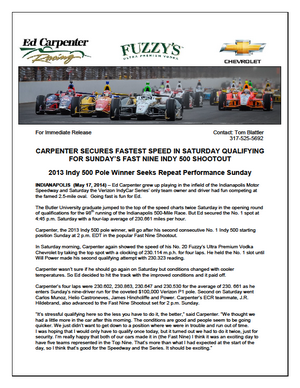 May 17th 2014 - INDIANAPOLIS – Ed Carpenter grew up playing in the infield of the Indianapolis Motor Speedway and Saturday the Verizon IndyCar Series' only team owner and driver had fun competing at the famed 2.5-mile oval.
Going fast is fun for Ed. The Butler University graduate jumped to the top of the speed charts twice Saturday in the opening round of qualifications for the 98th running of the Indianapolis 500-Mile Race. But Ed secured the No. 1 spot at 4:45 p.m. Saturday with a four-lap average of 230.661 miles per hour.
Carpenter, the 2013 Indy 500 pole winner, will go after his second consecutive No. 1 Indy 500 starting position Sunday at 2 p.m. EDT in the popular Fast Nine Shootout.
In Saturday morning, Carpenter again showed the speed of his No. 20 Fuzzy's Ultra Premium Vodka Chevrolet by taking the top spot with a clocking of 230.114 m.p.h. for four laps. He held the No. 1 slot until Will Power made his second qualifying attempt with 230.323 reading.
Carpenter wasn't sure if he should go again on Saturday but conditions changed with cooler temperatures. So Ed decided to hit the track with the improved conditions and it paid off.
Carpenter's four laps were 230.602, 230.863, 230.647 and 230.530 for the average of 230. 661 as he enters Sunday's nine-driver run for the coveted $100,000 Verizon P1 pole. Second on Saturday went Carlos Munoz, Helio Castroneves, James Hinchcliffe and Power. Carpenter's ECR teammate, J.R. Hildebrand, also advanced to the Fast Nine Shootout set for 2 p.m. Sunday.
"It's stressful qualifying here so the less you have to do it, the better," said Carpenter. "We thought we had a little more in the car after this morning. The conditions are good and people seem to be going quicker. We just didn't want to get down to a position where we were in trouble and run out of time. I was hoping that I would only have to qualify once today, but it turned out we had to do it twice, just for security. I'm really happy that both of our cars made it in (the Fast Nine) I think it was an exciting day to have five teams represented in the Top Nine. That's more than what I had expected at the start of the day, so I think that's good for the Speedway and the Series. It should be exciting."
Connect with The Crittenden Automotive Library