Hildebrand Runs 228.776 MPH In Fast Nine Shootout, To Start 9th Sunday
Hildebrand Runs 228.776 MPH In Fast Nine Shootout, To Start 9th Sunday
Tom Blattler
Ed Carpenter Racing
May 18, 2014

Microsoft Word version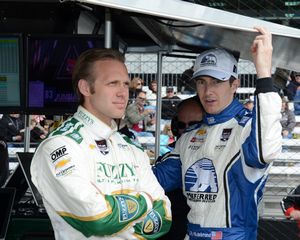 Ed and JR made the Fast Nine Shootout on Sunday at IMS.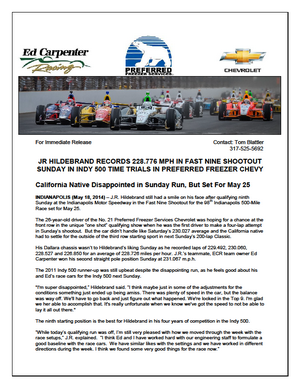 May 18th 2014 - INDIANAPOLIS (May 18, 2014) – J.R. Hildebrand still had a smile on his face after qualifying ninth Sunday at the Indianapolis Motor Speedway in the Fast Nine Shootout for the 98th Indianapolis 500-Mile Race set for May 25.
The 26-year-old driver of the No. 21 Preferred Freezer Services Chevrolet was hoping for a chance at the front row in the unique "one shot" qualifying show when he was the first driver to make a four-lap attempt in Sunday's shootout. But the car didn't handle like Saturday's 230.027 average and the California native had to settle for the outside of the third row starting sport in next Sunday's 200-lap Classic.
His Dallara chassis wasn't to Hildebrand's liking Sunday as he recorded laps of 229.492, 230.060, 228.527 and 226.850 for an average of 228.726 miles per hour. J.R.'s teammate, ECR team owner Ed Carpenter won his second straight pole position Sunday at 231.067 m.p.h.
The 2011 Indy 500 runner-up was still upbeat despite the disappointing run, as he feels good about his and Ed's race cars for the Indy 500 next Sunday.
"I'm super disappointed," Hildebrand said. "I think maybe just in some of the adjustments for the conditions something just ended up being amiss. There was plenty of speed in the car, but the balance was way off. We'll have to go back and just figure out what happened. We're locked in the Top 9. I'm glad we her able to accomplish that. It's really unfortunate when we know we've got the speed to not be able to lay it all out there."
The ninth starting position is the best for Hildebrand in his four years of competition in the Indy 500.
"While today's qualifying run was off, I'm still very pleased with how we moved through the week with the race setups," J.R. explained. "I think Ed and I have worked hard with our engineering staff to formulate a good baseline with the race cars. We have similar likes with the settings and we have worked in different directions during the week. I think we found some very good things for the race now."
Connect with The Crittenden Automotive Library