Ed Carpenter Wins 2nd Straight Indy 500 Pole at 231.067 MPH
Ed Carpenter Wins 2nd Straight Indy 500 Pole at 231.067 MPH
Tom Blattler
Ed Carpenter Racing
May 18, 2014

Microsoft Word version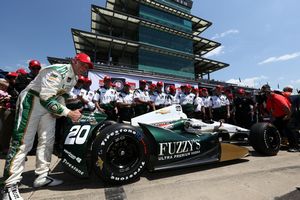 Ed and Fuzzy's Vodka Chevy takes Indy 500 Pole Position again.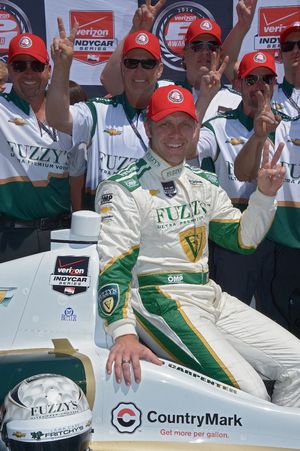 May 18th 2014 - INDIANAPOLIS – Ed Carpenter let the drama build to a sensational crescendo Sunday afternoon at the Indianapolis Motor Speedway when the 33-year-old Indianapolis racer captured his second consecutive Indy 500 pole position.
Carpenter, who won the pole last year at 228.762 miles per hour, drove his No. 20 Fuzzy's Ultra Premium Vodka Chevrolet to the $100,000 Verizon P1 award with a spectacular four-lap average of 231.067 m.p.h and will start first in the 98th running of the Indianapolis 500-Mile Race next Sunday, May 25.
The Butler University grad was the fastest in time trials Saturday which led to his final position in the Fast Nine Shootout under a sun-drenched crowd Sunday at the famed 2.5-mile oval. James Hinchcliffe previously set the fastest speed at 230.839 in the afternoon session.
But Carpenter had the IMS crowd on its feet again as the local driver hit speeds of 231.442, 231.211, 230.769 and 230,849 to record his second straight Indy 500 pole. Last year, Ed led the most laps in the race at 37 but finish tenth in the 97th Indy 500.
Rounding out the front row with Carpenter and Hinchcliffe will be Will Power, who clocked 230.697 Sunday. Carpenter is the first American driver to captured back-to-back poles at Indy since Scott Brayton in 1995 and 1996.
Carpenter's last Verizon IndyCar Series race was also a 500-mile event last October at Fontana, Calif., when he placed second to Power. In 2012, Carpenter won the 500-mile race at Fontana.
"It's exciting, but after going through this last year and not winning the race I've been so much more determined," said Carpenter. "I think the whole team has to really figure out what we need to do next Sunday and that remains true. It's awesome to win another pole and I guess I'm one of 11 guys to win back to back, which is pretty cool. It was hard with the weather conditions. They changed a lot. It's a beautiful day but the track temp is probably as high as we've seen since Sunday, last week. So that made for a challenge for everyone because no one was as trimmed out last Sunday. So I think you saw a lot of guys with more inconsistent runs than what we were seeing on track yesterday and I think, in part, that's due to temperatures. Everyone's going for it. It's fast nine so guys are laying it all out there. My team did a great job preparing the car and they gave me just the right level of downforce just like they did last year. I must have some smart guys working behind me."
Connect with The Crittenden Automotive Library