"Carb Day" in the Books For ECR Duo, Ready for Sunday's Indy 500
"Carb Day" in the Books For ECR Duo, Ready for Sunday's Indy 500
Tom Blattler
Ed Carpenter Racing
May 23, 2014

Microsoft Word version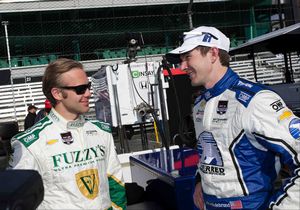 Ed and JR are ready for Sunday's 98th Indy 500.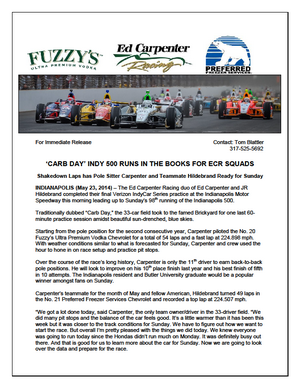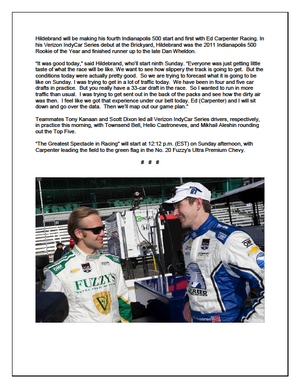 May 23rd 2014 - INDIANAPOLIS – The Ed Carpenter Racing duo of Ed Carpenter and JR Hildebrand completed their final Verizon IndyCar Series practice at the Indianapolis Motor Speedway this morning leading up to Sunday's 98th running of the Indianapolis 500.
Traditionally dubbed "Carb Day," the 33-car field took to the famed Brickyard for one last 60-minute practice session amidst beautiful sun-drenched, blue skies.
Starting from the pole position for the second consecutive year, Carpenter piloted the No. 20 Fuzzy's Ultra Premium Vodka Chevrolet for a total of 54 laps and a fast lap at 224.898 mph. With weather conditions similar to what is forecasted for Sunday, Carpenter and crew used the hour to hone in on race setup and practice pit stops.
Over the course of the race's long history, Carpenter is only the 11th driver to earn back-to-back pole positions. He will look to improve on his 10th place finish last year and his best finish of fifth in 10 attempts.
The Indianapolis resident and Butler University graduate would be a popular winner amongst fans on Sunday. Carpenter's teammate for the month of May and fellow American, Hildebrand turned 49 laps in the No. 21 Preferred Freezer Services Chevrolet and recorded a top lap at 224.507 mph.
"We got a lot done today, said Carpenter, the only team owner/driver in the 33-driver field. "We did many pit stops and the balance of the car feels good. It's a little warmer than it has been this week but it was closer to the track conditions for Sunday. We have to figure out how we want to start the race. But overall I'm pretty pleased with the things we did today. We knew everyone was going to run today since the Hondas didn't run much on Monday. It was definitely busy out there. And that is good for us to learn more about the car for Sunday. Now we are going to look over the data and prepare for the race."
Hildebrand will be making his fourth Indianapolis 500 start and first with Ed Carpenter Racing. In his Verizon IndyCar Series debut at the Brickyard, Hildebrand was the 2011 Indianapolis 500 Rookie of the Year and finished runner up to the late Dan Wheldon.
"It was good today," said Hildebrand, who'll start ninth Sunday. "Everyone was just getting little taste of what the race will be like. We want to see how slippery the track is going to get. But the conditions today were actually pretty good. So we are trying to forecast what it is going to be like on Sunday. I was trying to get in a lot of traffic today. We have been in four and five car drafts in practice. But you really have a 33-car draft in the race. So I wanted to run in more traffic than usual. I was trying to get sent out in the back of the packs and see how the dirty air was then. I feel like we got that experience under our belt today. Ed (Carpenter) and I will sit down and go over the data. Then we'll map out our game plan."
Teammates Tony Kanaan and Scott Dixon led all Verizon IndyCar Series drivers, respectively, in practice this morning, with Townsend Bell, Helio Castroneves, and Mikhail Aleshin rounding out the Top Five.
"The Greatest Spectacle in Racing" will start at 12:12 p.m. (EST) on Sunday afternoon, with Carpenter leading the field to the green flag in the No. 20 Fuzzy's Ultra Premium Chevy.
Connect with The Crittenden Automotive Library