Conway Returns To Motown as Defending Champion, Ready in Fuzzy's Vodka Chevy
Conway Returns To Motown as Defending Champion, Ready in Fuzzy's Vodka Chevy
Tom Blattler
Ed Carpenter Racing
May 28, 2014

Microsoft Word version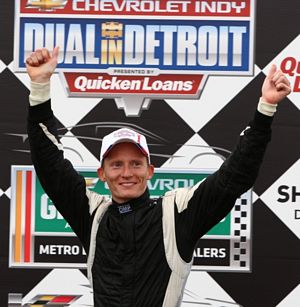 Mike came to Detroit late and stunned the IndyCar teams last year.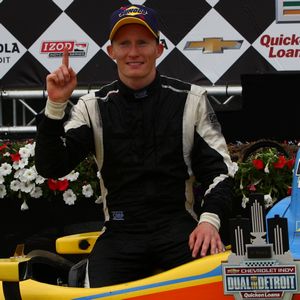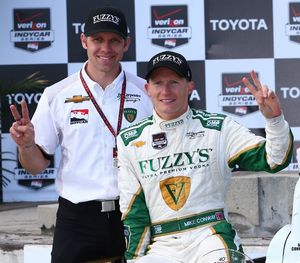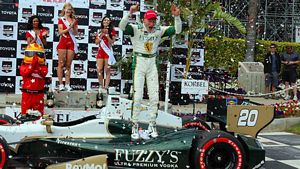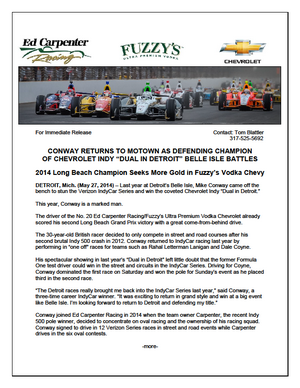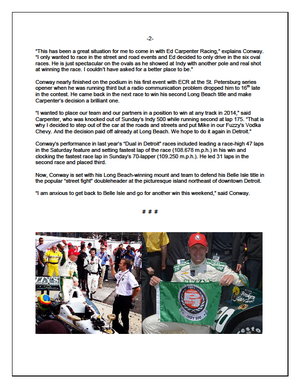 May 28th 2014 - DETROIT, Mich. – Last year at Detroit's Belle Isle, Mike Conway came off the bench to stun the Verizon IndyCar Series and win the coveted Chevrolet Indy "Dual in Detroit."
This year, Conway is a marked man.
The driver of the No. 20 Ed Carpenter Racing/Fuzzy's Ultra Premium Vodka Chevrolet already scored his second Long Beach Grand Prix victory with a great come-from-behind drive. The 30-year-old British racer decided to only compete in street and road courses after his second brutal Indy 500 crash in 2012. Conway returned to IndyCar racing last year by performing in "one off" races for teams such as Rahal Letterman Lanigan and Dale Coyne.
His spectacular showing in last year's "Dual in Detroit" left little doubt that the former Formula One test driver could win in the street and circuits in the IndyCar Series. Driving for Coyne, Conway dominated the first race on Saturday and won the pole for Sunday's event as he placed third in the second race.
"The Detroit races really brought me back into the IndyCar Series last year," said Conway, a three-time career IndyCar winner. "It was exciting to return in grand style and win at a big event like Belle Isle. I'm looking forward to return to Detroit and defending my title."
Conway joined Ed Carpenter Racing in 2014 when the team owner Carpenter, the recent Indy 500 pole winner, decided to concentrate on oval racing and the ownership of his racing squad. Conway signed to drive in 12 Verizon Series races in street and road events while Carpenter drives in the six oval contests.
"This has been a great situation for me to come in with Ed Carpenter Racing," explains Conway. "I only wanted to race in the street and road events and Ed decided to only drive in the six oval races. He is just spectacular on the ovals as he showed at Indy with another pole and real shot at winning the race. I couldn't have asked for a better place to be."
Conway nearly finished on the podium in his first event with ECR at the St. Petersburg series opener when he was running third but a radio communication problem dropped him to 16th late in the contest. He came back in the next race to win his second Long Beach title and make Carpenter's decision a brilliant one.
"I wanted to place our team and our partners in a position to win at any track in 2014," said Carpenter, who was knocked out of Sunday's Indy 500 while running second at lap 175. "That is why I decided to step out of the car at the roads and streets and put Mike in our Fuzzy's Vodka Chevy. And the decision paid off already at Long Beach. We hope to do it again in Detroit."
Conway's performance in last year's "Dual in Detroit" races included leading a race-high 47 laps in the Saturday feature and setting fastest lap of the race (108.678 m.p.h.) in his win and clocking the fastest race lap in Sunday's 70-lapper (109.250 m.p.h.). He led 31 laps in the second race and placed third.
Now, Conway is set with his Long Beach-winning mount and team to defend his Belle Isle title in the popular "street fight" doubleheader at the picturesque island northeast of downtown Detroit.
"I am anxious to get back to Belle Isle and go for another win this weekend," said Conway.
Connect with The Crittenden Automotive Library