Conway Trains In Phoenix, Preparing for Houston Heat This Weekend
Conway Trains In Phoenix, Preparing for Houston Heat This Weekend
Tom Blattler
Ed Carpenter Racing
June 24, 2014

Microsoft Word version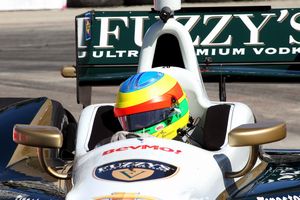 Mike Conway won Long Beach and looks for another victory at Houston.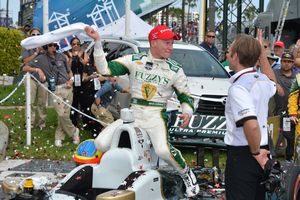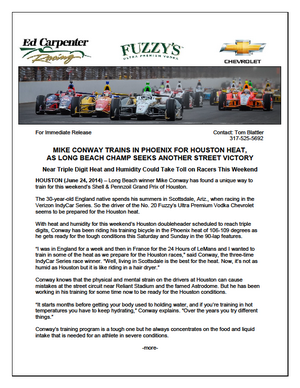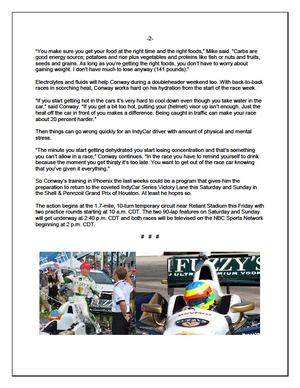 June 24th 2014 - HOUSTON – Long Beach winner Mike Conway has found a unique way to train for this weekend's Shell & Pennzoil Grand Prix of Houston.
The 30-year-old England native spends his summers in Scottsdale, Ariz., when racing in the Verizon IndyCar Series. So the driver of the No. 20 Fuzzy's Ultra Premium Vodka Chevrolet seems to be prepared for the Houston heat.
With heat and humidity for this weekend's Houston doubleheader scheduled to reach triple digits, Conway has been riding his training bicycle in the Phoenix heat of 106-109 degrees as he gets ready for the tough conditions this Saturday and Sunday in the 90-lap features.
"I was in England for a week and then in France for the 24 Hours of LeMans and I wanted to train in some of the heat as we prepare for the Houston races," said Conway, the three-time IndyCar Series race winner. "Well, living in Scottsdale is the best for the heat. Now, it's not as humid as Houston but it is like riding in a hair dryer."
Conway knows that the physical and mental strain on the drivers at Houston can cause mistakes at the street circuit near Reliant Stadium and the famed Astrodome. But he has been working in his training for some time now to be ready for the Houston conditions.
"It starts months before getting your body used to holding water, and if you're training in hot temperatures you have to keep hydrating," Conway explains. "Over the years you try different things."
Conway's training program is a tough one but he always concentrates on the food and liquid intake that is needed for an athlete in severe conditions.
"You make sure you get your food at the right time and the right foods," Mike said. "Carbs are good energy source; potatoes and rice plus vegetables and proteins like fish or nuts and fruits, seeds and grains. As long as you're getting the right foods, you don't have to worry about gaining weight. I don't have much to lose anyway (141 pounds)."
Electrolytes and fluids will help Conway during a doubleheader weekend too. With back-to-back races in scorching heat, Conway works hard on his hydration from the start of the race week.
"If you start getting hot in the cars it's very hard to cool down even though you take water in the car," said Conway. "If you get a bit too hot, putting your (helmet) visor up isn't enough. Just the heat off the car in front of you makes a difference. Being caught in traffic can make your race about 20 percent harder."
Then things can go wrong quickly for an IndyCar driver with amount of physical and mental stress.
"The minute you start getting dehydrated you start losing concentration and that's something you can't allow in a race," Conway continues. "In the race you have to remind yourself to drink because the moment you get thirsty it's too late. You want to get out of the race car knowing that you've given it everything."
So Conway's training in Phoenix the last weeks could be a program that gives him the preparation to return to the coveted IndyCar Series Victory Lane this Saturday and Sunday in the Shell & Pennzoil Grand Prix of Houston. At least he hopes so.
The action begins at the 1.7-mile, 10-turn temporary circuit near Reliant Stadium this Friday with two practice rounds starting at 10 a.m. CDT. The two 90-lap features on Saturday and Sunday will get underway at 2:40 p.m. CDT and both races will be televised on the NBC Sports Network beginning at 2 p.m. CDT.
Connect with The Crittenden Automotive Library