ECR Seeks Another Texas Win This Weekend in Houston With Conway
ECR Seeks Another Texas Win This Weekend in Houston With Conway
Tom Blattler
Ed Carpenter Racing
June 25, 2014

Microsoft Word version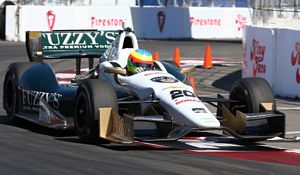 Mike Conway looks for another IndyCar Series win this weekend at the Houston Doubleheader.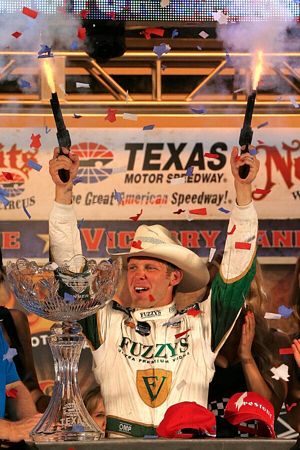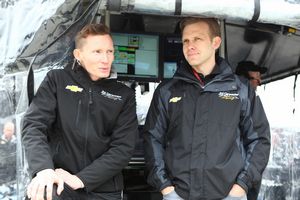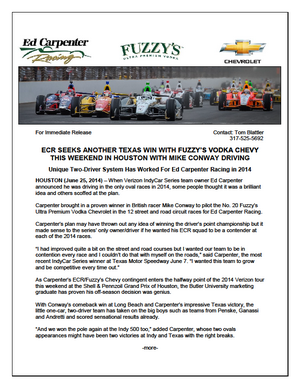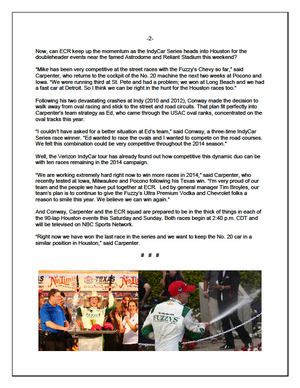 June 25th 2014 - HOUSTON – When Verizon IndyCar Series team owner Ed Carpenter announced he was driving in the only oval races in 2014, some people thought it was a brilliant idea and others scoffed at the plan.
Carpenter brought in a proven winner in British racer Mike Conway to pilot the No. 20 Fuzzy's Ultra Premium Vodka Chevrolet in the 12 street and road circuit races for Ed Carpenter Racing.
Carpenter's plan may have thrown out any idea of winning the driver's point championship but it made sense to the series' only owner/driver if he wanted his ECR squad to be a contender at each of the 2014 races.
"I had improved quite a bit on the street and road courses but I wanted our team to be in contention every race and I couldn't do that with myself on the roads," said Carpenter, the most recent IndyCar Series winner at Texas Motor Speedway June 7. "I wanted this team to grow and be competitive every time out."
As Carpenter's ECR/Fuzzy's Chevy contingent enters the halfway point of the 2014 Verizon tour this weekend at the Shell & Pennzoil Grand Prix of Houston, the Butler University marketing graduate has proven his off-season decision was genius.
With Conway's comeback win at Long Beach and Carpenter's impressive Texas victory, the little one-car, two-driver team has taken on the big boys such as teams from Penske, Ganassi and Andretti and scored sensational results already.
"And we won the pole again at the Indy 500 too," added Carpenter, whose two ovals appearances might have been two victories at Indy and Texas with the right breaks.
Now, can ECR keep up the momentum as the IndyCar Series heads into Houston for the doubleheader events near the famed Astrodome and Reliant Stadium this weekend?
"Mike has been very competitive at the street races with the Fuzzy's Chevy so far," said Carpenter, who returns to the cockpit of the No. 20 machine the next two weeks at Pocono and Iowa. "We were running third at St. Pete and had a problem; we won at Long Beach and we had a fast car at Detroit. So I think we can be right in the hunt for the Houston races too."
Following his two devastating crashes at Indy (2010 and 2012), Conway made the decision to walk away from oval racing and stick to the street and road circuits. That plan fit perfectly into Carpenter's team strategy as Ed, who came through the USAC oval ranks, concentrated on the oval tracks this year.
"I couldn't have asked for a better situation at Ed's team," said Conway, a three-time IndyCar Series race winner. "Ed wanted to race the ovals and I wanted to compete on the road courses. We felt this combination could be very competitive throughout the 2014 season."
Well, the Verizon IndyCar tour has already found out how competitive this dynamic duo can be with ten races remaining in the 2014 campaign.
"We are working extremely hard right now to win more races in 2014," said Carpenter, who recently tested at Iowa, Milwaukee and Pocono following his Texas win. "I'm very proud of our team and the people we have put together at ECR. Led by general manager Tim Broyles, our team's plan is to continue to give the Fuzzy's Ultra Premium Vodka and Chevrolet folks a reason to smile this year. We believe we can win again."
And Conway, Carpenter and the ECR squad are prepared to be in the thick of things in each of the 90-lap Houston events this Saturday and Sunday. Both races begin at 2:40 p.m. CDT and will be televised on NBC Sports Network.
"Right now we have won the last race in the series and we want to keep the No. 20 car in a similar position in Houston," said Carpenter.
Connect with The Crittenden Automotive Library