Houston Circuit Tough For Conway, ECR Team Friday
Houston Circuit Tough For Conway, ECR Team Friday
Tom Blattler
Ed Carpenter Racing
June 27, 2014

Microsoft Word version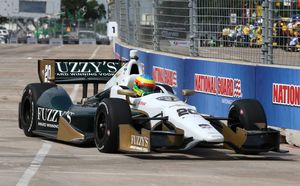 Houston track tough on Conway and ECR Friday.
June 27th 2014 - HOUSTON, Texas – It was a frustrating day for driver Mike Conway and the Ed Carpenter Racing team Friday in the heat and humidity at the Shell & Pennzoil Grand Prix of Houston.
Conway, the Long Beach winner, struggled over the 1.7-mile, 10-turn temporary circuit near the nrg Stadium and famed Astrodome in the opening rounds of practice for Saturday and Sunday's 90-lap doubleheader events.
Conway's top speed from the day was 94.543 miles per hour as the 30-year-old Brit fought the bumps over the parking lot circuit with his No. 20 Fuzzy's Ultra Premium Vodka Chevrolet. Conway completed 41 laps today between the two 45-minute practice sessions.
Simon Pagenaud recorded the fastest speed Friday with a 97.809 m.p.h.
Qualifying for Saturday's first Grand Prix race will begin at 10:00 CDT a.m. with the 90-lap contest scheduled to begin at 2:40 p.m. EDT with a standing start. Sunday's program also is set for 2:40 p.m. CDT with a rolling start. Both Houston races will be televised live on ABC-TV starting at 2:00 p.m. CDT.
"The car just didn't handle as we would have liked today," said Conway. "We made some changes from the morning to the afternoon but it just wasn't enough. We'll have to work overnight to find some settings that can handle this circuit. I feel they have improved the surface of the track from last year. Especially the turn one surface is much better and it feels smoother. There are smoother spots in other portions of the circuit too. Overall, we just have to find the setup that works well on this new surface."
Connect with The Crittenden Automotive Library