Conway Contacts Tires in Slick Conditions, Ends Day Early Saturday in Houston
Conway Contacts Tires in Slick Conditions, Ends Day Early Saturday in Houston
Tom Blattler
Ed Carpenter Racing
June 28, 2014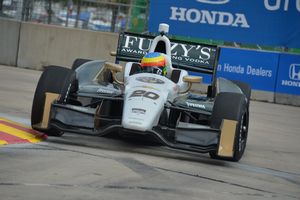 Conway's charge ended early Saturday at Houston.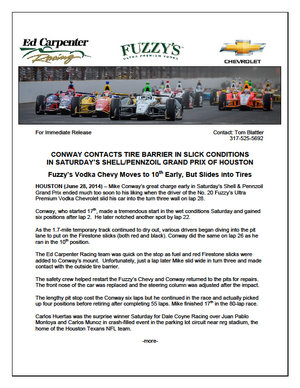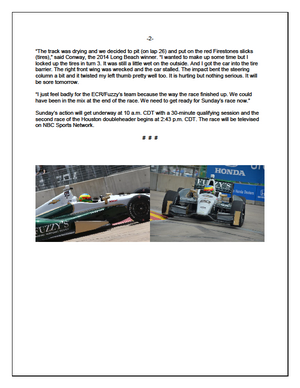 June 28th 2014 - HOUSTON – Mike Conway's great charge early in Saturday's Shell & Pennzoil Grand Prix ended much too soon to his liking when the driver of the No. 20 Fuzzy's Ultra Premium Vodka Chevrolet slid his car into the turn three wall on lap 28.
Conway, who started 17th, made a tremendous start in the wet conditions Saturday and gained six positions after lap 2. He later notched another spot by lap 22.
As the 1.7-mile temporary track continued to dry out, various drivers began diving into the pit lane to put on the Firestone slicks (both red and black). Conway did the same on lap 26 as he ran in the 10th position.
The Ed Carpenter Racing team was quick on the stop as fuel and red Firestone slicks were added to Conway's mount. Unfortunately, just a lap later Mike slid wide in turn three and made contact with the outside tire barrier. The safety crew helped restart the Fuzzy's Chevy and Conway returned to the pits for repairs.
The front nose of the car was replaced and the steering column was adjusted after the impact. The lengthy pit stop cost the Conway six laps but he continued in the race and actually picked up four positions before retiring after completing 55 laps. Mike finished 17th in the 80-lap race.
Carlos Huertas was the surprise winner Saturday for Dale Coyne Racing over Juan Pablo Montoya and Carlos Munoz in crash-filled event in the parking lot circuit near nrg stadium, the home of the Houston Texans NFL team.
"The track was drying and we decided to pit (on lap 26) and put on the red Firestones slicks (tires)," said Conway, the 2014 Long Beach winner. "I wanted to make up some time but I locked up the tires in turn 3. It was still a little wet on the outside. And I got the car into the tire barrier. The right front wing was wrecked and the car stalled. The impact bent the steering column a bit and it twisted my left thumb pretty well too. It is hurting but nothing serious. It will be sore tomorrow.
"I just feel badly for the ECR/Fuzzy's team because the way the race finished up. We could have been in the mix at the end of the race. We need to get ready for Sunday's race now."
Sunday's action will get underway at 10 a.m. CDT with a 30-minute qualifying session and the second race of the Houston doubleheader begins at 2:43 p.m. CDT. The race will be televised on NBC Sports Network.
Connect with The Crittenden Automotive Library