Carpenter Notches Top Ten Spot in Iowa Qualifying
Carpenter Notches Top Ten Spot in Iowa Qualifying
Tom Blattler
Ed Carpenter Racing
July 11, 2014

Microsoft Word version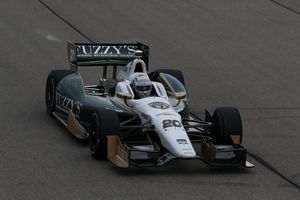 Carpenter will start in the 10th spot for Saturday's Iowa Corn 300.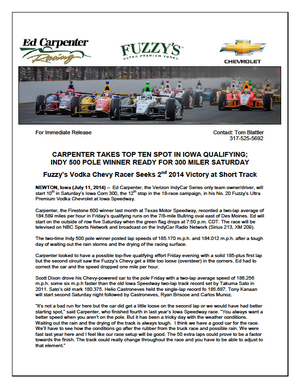 July 11th 2014 - NEWTON, Iowa – Ed Carpenter, the Verizon IndyCar Series only team owner/driver, will start 10th in Saturday's Iowa Corn 300, the 12th stop in the 18-race campaign, in his No. 20 Fuzzy's Ultra Premium Vodka Chevrolet at Iowa Speedway.
Carpenter, the Firestone 600 winner last month at Texas Motor Speedway, recorded a two-lap average of 184.589 miles per hour in Friday's qualifying runs on the 7/8-mile Bullring oval east of Des Moines. Ed will start on the outside of row five Saturday when the green flag drops at 7:50 p.m. CDT. The race will be televised on NBC Sports Network and broadcast on the IndyCar Radio Network (Sirius 213, XM 209).
The two-time Indy 500 pole winner posted lap speeds of 185.170 m.p.h. and 184.012 m.p.h. after a tough day of waiting out the rain storms and the drying of the racing surface.
Carpenter looked to have a possible top-five qualifying effort Friday evening with a solid 185-plus first lap but the second circuit saw the Fuzzy's Chevy get a little too loose (oversteer) in the corners. Ed had to correct the car and the speed dropped one mile per hour.
Scott Dixon drove his Chevy-powered car to the pole Friday with a two-lap average speed of 186.256 m.p.h. some six m.p.h faster than the old Iowa Speedway two-lap track record set by Takuma Sato in 2011. Sato's old mark 180.375. Helio Castroneves held the single-lap record fo 185.687. Tony Kanaan will start second Saturday night followed by Castroneves, Ryan Briscoe and Carlos Munoz.
"It's not a bad run for here but the car did get a little loose on the second lap or we would have had better starting spot," said Carpenter, who finished fourth in last year's Iowa Speedway race. "You always want a better speed when you aren't on the pole. But it has been a tricky day with the weather conditions. Waiting out the rain and the drying of the track is always tough. I think we have a good car for the race. We'll have to see how the conditions go after the rubber from the truck race and possible rain. We were fast last year here and I feel like our race setup will be good. The 50 extra laps could prove to be a factor towards the finish. The track could really change throughout the race and you have to be able to adjust to that element."
Connect with The Crittenden Automotive Library